There's something magical about the festive period.
Boosted by the twinkling of decorative lights hanging through high streets and drawn together by the busy social calendar that Christmas provides, it is impossible not to be put in a cheerful mood.
The festive period is a fantastic time filled with friendship, cheer and community spirit.
Christmas is synonymous with the sounds of carols being cheerfully sung. From spontaneous performances in public spaces to more organised events; Christmas is a time filled with music.
If you are a member or leader of a choir, you will most likely be spending your festive period performing at a whole host of seasonal choral showcases.
But, with so many choir performances to participate in over the Christmas season, how can you help your choir to put on a stand out performance?
We've compiled a list of 10 tips to ensure your choir stands out this Christmas, to keep the crowds and your singers entertained all the way through til New Years!
1. Special Song Selection
Everybody knows the Christmas classics. From O Come All Ye Faithful to Silent Night, the traditional festive repertoire is known, and loved, by everyone.
Of course, there will always be a place for the time-honoured Christmas hymns and carols, but, a surefire way to stand out this Christmas period is to add some more unusual song choices to your choir's setlist.
Why not put a festive choral spin on some more modern songs to show your choir's range? And, use your musical know-how to reimagine contemporary songs in a Christmassy context.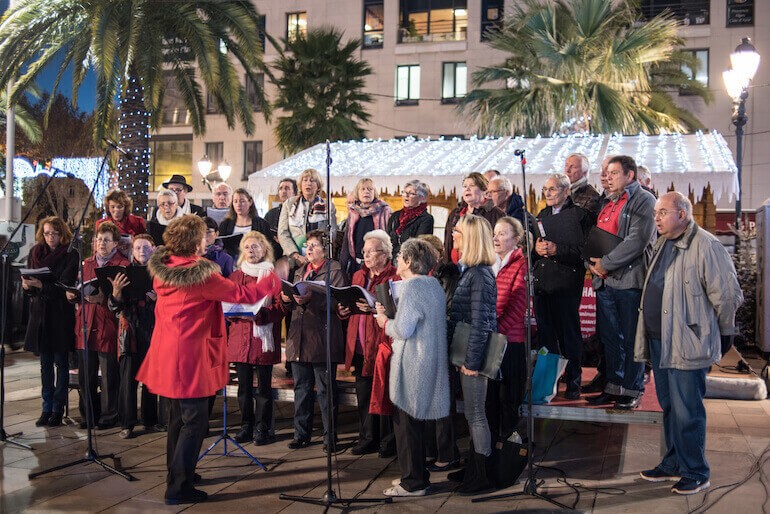 Just as a certain well-known high street retailer often takes a tune from today's charts and reimagines it for their Christmas adverts, your choir could really grab your audience's attention as they realise it's not a classic carol their listening to, but rather a modern song with your unique choral twist.
Why not try putting your own spin on Celeste's Strange? The gentle melodic song would be perfect for a choral performance. Or, how about your take on the iconic songs that have been featured in John Lewis' Christmas adverts?
For a modern and engaging performance, try a choral arrangement of songs such as Somewhere Only We Know, One Day I'll Fly Away, Half the World Away or Your Song.
2. Tinseltown Themed Performances
Why not consider going even further than performing modern songs in your festive performance and put on a complete themed show?
There are certain Christmas films with soundtracks so toe-tappingly uplifting that they put a smile on everyone's faces.
From pop-culture icons such as Love Actually to more classic films including White Christmas and kids favourites like Frozen, there are plenty of Christmas films with wonderful soundtracks perfect for a festive performance.
Your choir could really stand out and bring smiles to the faces of festive film fans this Christmas with a themed performance based on the songs of a classic Christmas film.
If you feel this is too far for your choir, you could start and end your performances with a small storyline to top and tail the night and give a little additional narrative to the performance.
3. Get Everyone Involved
Christmas is a time for coming together and, what better way to boost community spirit than inviting them into your performance?
Music is a universal language and a fantastic way to cross over generational, societal and language barriers.
Including the audience in your choir's performance is a great way to ensure they have a memorable experience, try simply providing lyric sheets for the crowds to sing from.
Or, for a more informal but hugely fun performance, make your choir's show more interactive and invite members of the audience up to the mic to sing with you.
You never know, you may find some new recruits along the way!
Top Tip – have back up singers in the audience or in the choir to boost audience participation. Being the first to come out of the audience can seem like a large leap and be slightly out of the ordinary. Seeing someone else go up first can boost the rest of the audience's confidence.
4. Surprise Singing Locations
Of course, there's nothing more classically Christmassy than the sounds of a choir's performance flowing out from church doors.
And, everyone loves their Christmas shopping to be accompanied by the delightful tones of a performance in a town square or high street.
But, to really stand out this Christmas, why not have your choir perform in more unusual locations. Staging a surprise performance on a train platform for waiting commuters is sure to put a smile on their faces for the rest of the day.
Or, bring some festive joy and yuletide spirit to those who may not be able to otherwise enjoy a Christmas show and perform for the residents of a care home or community hospital.
A unique way to start your performance and really put on a show is to have the members of your choir begin the performance from different areas and come together as they sing. This flashmob style performance can really grab the audience's attention as they work to figure out what's going on!
Top tip: Film your surprise flashmob style performance to share online. This will show off your choir in a great light and spread the Christmas joy throughout social media!
5. A Bit of Festive Competition
Have a healthy rivalry with another choir in your local area? Why not invite them to take part in a festive sing-off?
You could stage a joint performance where each choir 'battles' in a Christmas carol sing-off, or join forces in an exclusive Christmas showcase.
It will provide a bit of faux-drama for the audience and perhaps the fusion of two choirs could throw up some interesting new harmonies and previously unconsidered song choices.
Plus, you'll likely draw in an even wider audience as fans of each choir come together to see you both perform together.
6. The Kids are Alright
If your choir is looking for a way to get the Christmas community spirit flowing in abundance then why not consider inviting children from your local schools or clubs to join in your festive performance?
No one feels the joy of Christmas quite like a bright-eyed child and this joy will surely be infectious for everyone involved in the performance, from the conductor to the audience.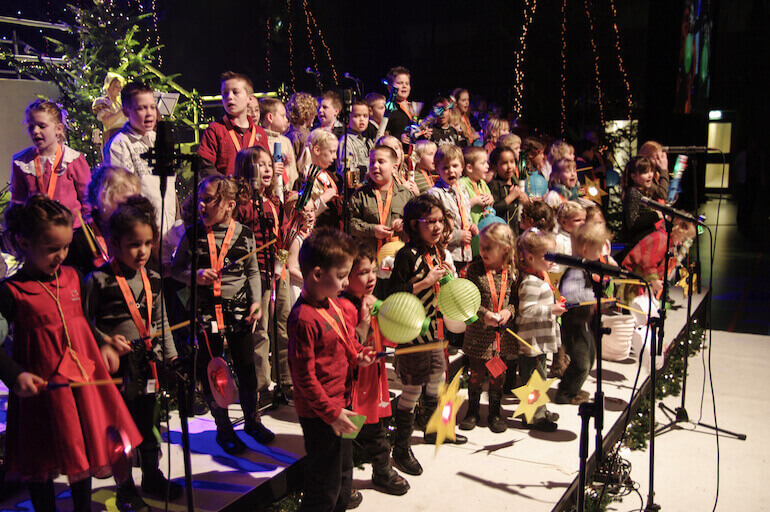 Simple choral arrangements and well-known carols are perfect for performing with children of all ages. And, giving the children the experience of performing in an adults choir could spark a lifetime love of performing.
The combination of the children's rosy-cheeked, enthusiastic performance with your choir's beautifully harmonised tones is sure to be memorable for anyone in the audience.
7. Dress in Christmas Choral Colours
One sure-fire way for your choir to stand out this Christmas season is for everyone to be sharply dressed.
Whether you opt for a classic all-black look for a chic presentation or go more out there with festive themed costumes, it's always more memorable when a choir looks coordinated and put together.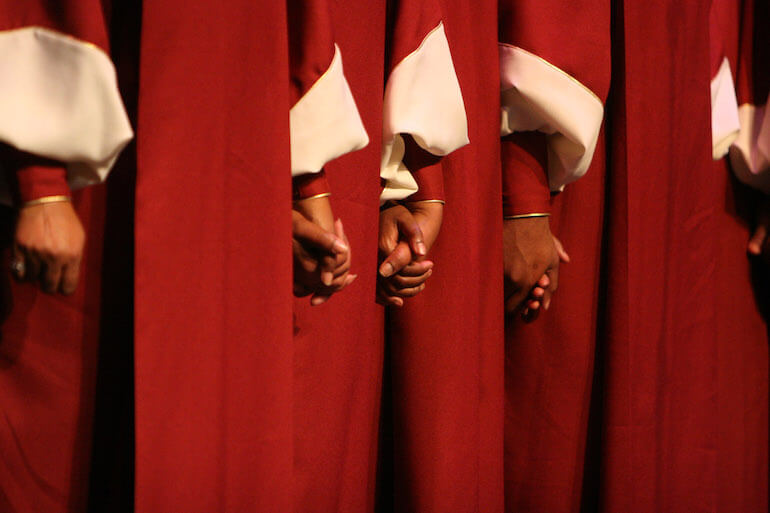 For a classic choral look, browse our choir wear collection, available in a range of styles and colours sure to complement any choir's Christmas performance, reindeer antlers optional.