From de-mystifying graduation gowns to discussing how to wear the cap and hood and where to put your mobile phone during the ceremony, we've got your ultimate graduation ceremony survival guide!
Your graduation day is one of those days in your life that you'll likely never forget. It's the culmination of three years (or more!) of hard work, dedication and the occasional heavy night at the SU. But, if you're graduating soon and you're feeling unprepared, don't panic. You'll find everything you need to prepare for the big day in our graduation ceremony survival guide.
Graduation Ceremony Survival Guide, Your Questions Answered
How big are graduation gowns supposed to be?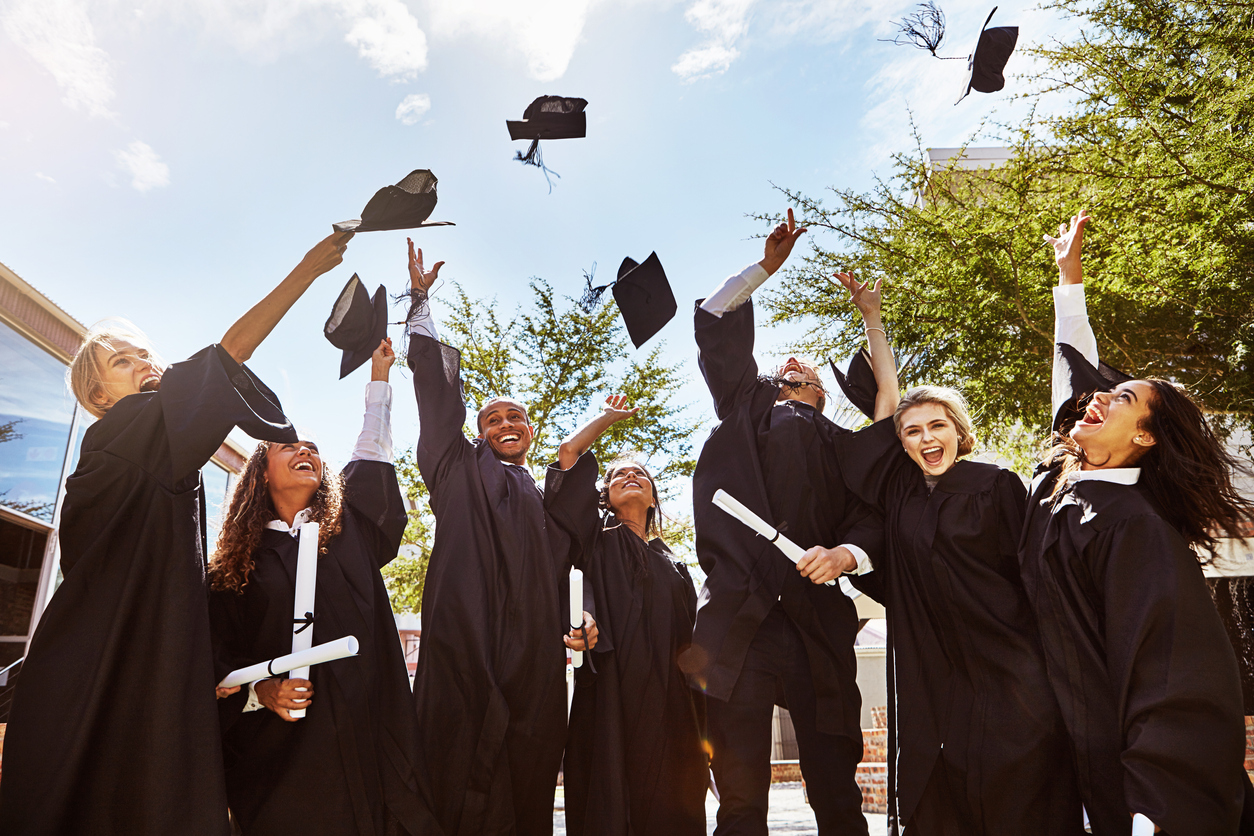 The first thing students often ask is whether or not their graduation gown is supposed to be so big! The gowns come in various height sizes, but sometimes if you're in between the sizes, it's difficult to know which one to choose.
We would recommend going for the slightly smaller gown if you are unsure, as this will look more professional on the day. Most of all, you want to make sure that you feel comfortable during the graduation ceremony.
The gown will definitely be below the knee and it might even be a bit of an ankle grazer, it depends on your height and frame. The arms are also quite flappy, so it will feel like you're walking around with wings until you get used to it. 
They might not be the height of couture fashion, but a graduation gown is steeped in history and when you wear one for your ceremony you join the ranks of the innumerable graduates who have gone before you. 
What do I wear under a graduation gown?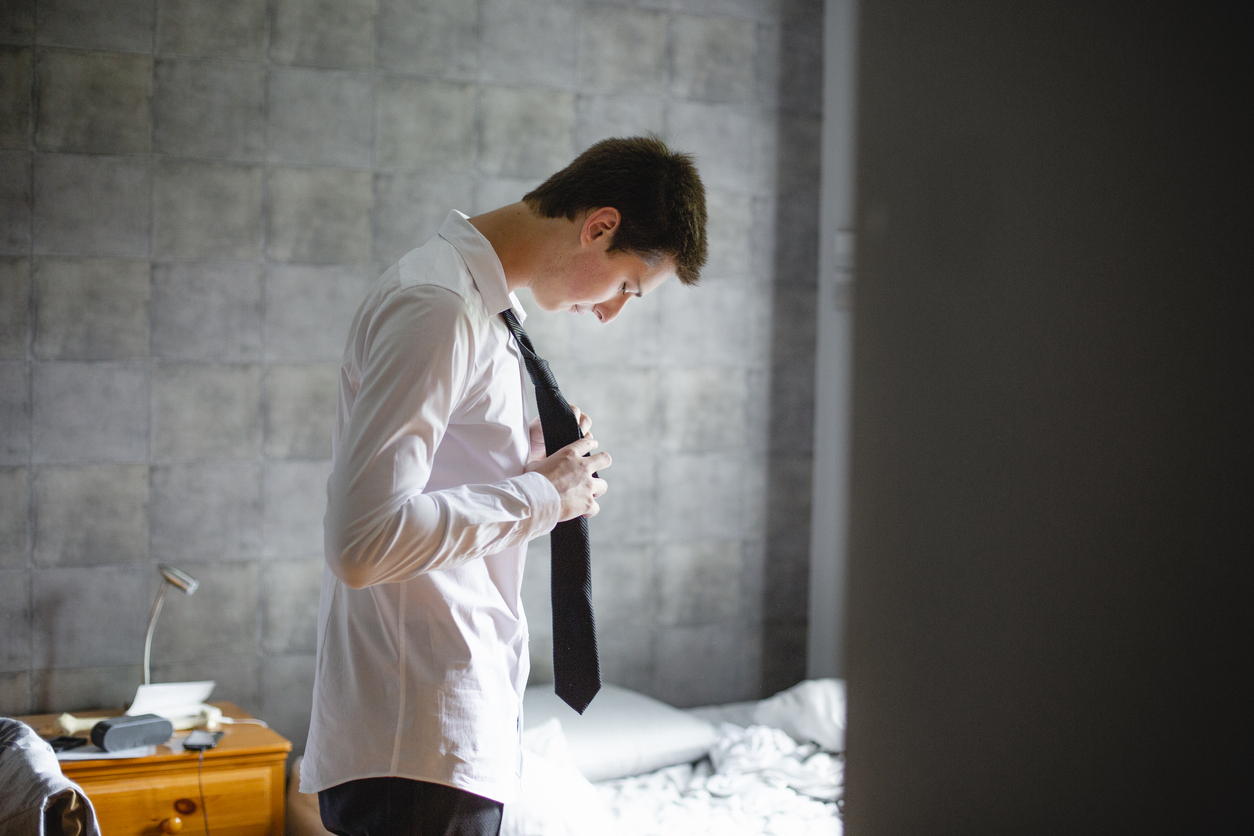 First thing's first, graduation gowns tend to be a bit on the warm side. So it's important that what you wear underneath is quite lightweight. Above all, you want to make sure you're comfortable. Graduation day is quite long!
Ideally, you want to achieve a classic look, wearing colours that go with your graduation gown and hood. Remember the photos will be on your relative's walls for years to come!
Outfit choices to avoid would be jeans, casual t-shirts and low-cut tops. Your graduation hood will have a loop on the neckband designed to be attached to a shirt button, so this won't work with certain cuts and necklines.
We've compiled an entire guide offering advice and ideas on what to wear under your graduation gown, so if you're stuck take a look there for some inspiration.
How do I wear a Mortarboard and Graduation Hood?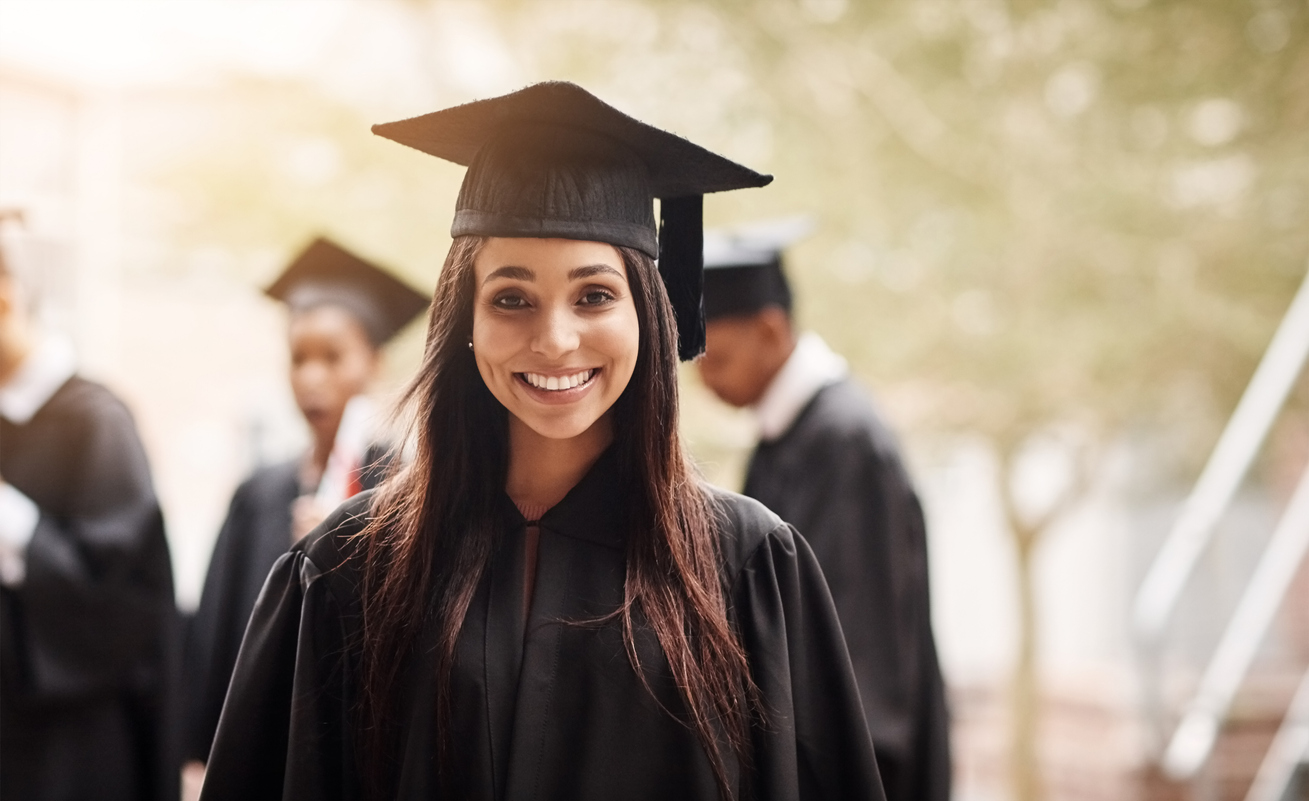 We've already briefly touched on the hood options and if you're wearing a tie, you might be able to tie your hood onto it. You will need to allow time to play around and see what works!
Graduation caps, usually known as mortarboards, can only be worn over simple hairstyles. So there is no point in spending ages creating a high ponytail or bun style, or even styling hair with gel or wax. Your mortarboard will flatten your hair and it won't go over the top of fancy hairdos. Simple styles work best.
A good tip we had to include in this graduation ceremony survival guide is to take plenty of hair grips with you to the graduation ceremony so that you're ready for any mortar board hair emergencies! You might end up having to adjust your graduation hat or hood halfway through the ceremony, so it's best to be prepared!
Where do I put my phone during a graduation ceremony?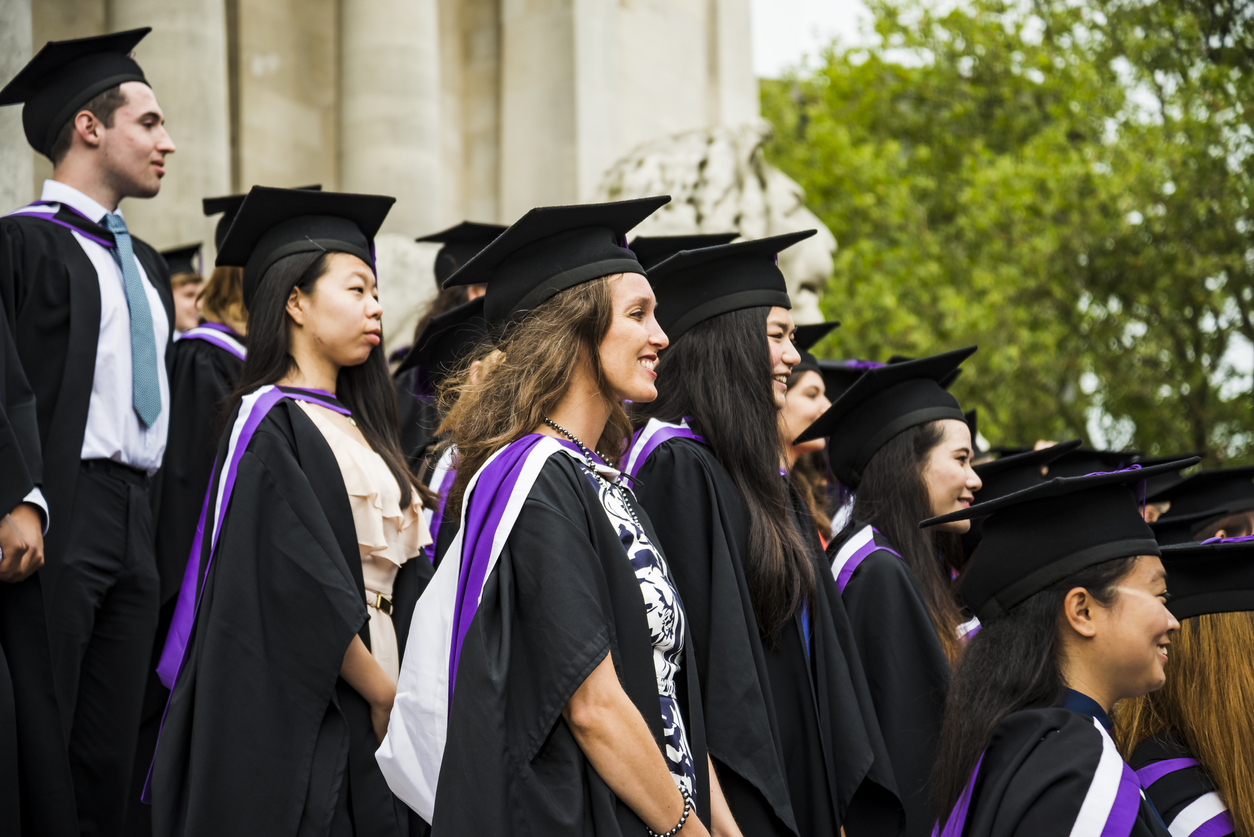 You might want your phone on you during the graduation ceremony to take photos of friends accepting their awards. But we wouldn't recommend texting or checking social media during the ceremony though; that might seem a bit rude!
So the question is, where do you put your phone when you walk on stage to collect your award? Ladies' clutch bags are not very practical because you might need both hands free to shake hands and take your award. However, a small shoulder bag could work if your university's graduation dress code allows it. Then you'll have somewhere to store all the essentials without having to actually hold anything. 
If opting for a handbag, we suggest you opt for a black or plain coloured bag or a complementary colour to your graduation outfit.
Unfortunately, they don't really make these styles of bags for men! Most male graduates tend to store their mobile phone in the pocket of their trousers and it's also quite common for people to just leave their phone on their seat whilst they go up to collect their award. But, be warned that you don't always return to the same seat when you get back from collecting your award. 
Will it be a virtual graduation?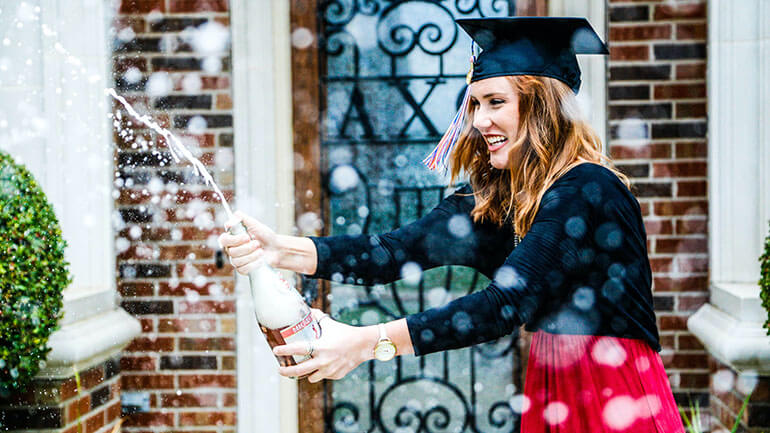 With the Covid pandemic continuing to cause issues, some universities have decided to go virtual, some physical and some are even offering a hybrid experience. What does this mean for you? Although the experience may change substantially from what you may have been expecting, wearing your gown and mortarboard continues to be an important aspect of the graduation process. 
So whether you are attending the celebrations from your university location, or accessing graduations.live from anywhere else in the world, you can ensure you have the best experience possible by treating it as you would a regular physical graduation ceremony.
If your graduation is to be a virtual one, make the most of your special virtual day by looking at these hints and tips.
How not to embarrass yourself during your graduation ceremony
For some people, graduation day can be as nerve-wracking as their wedding day. After all, you have to walk up on stage in front of loads of people and shake someone's hand that you may have never met before. It may seem like a simple process, but at any event where you're being watched and clapped, you can feel a bit put off!
The best advice is not to wear silly shoes! The temptation, especially for ladies, is to go out and buy new high heels for the day. There are two reasons why this is a bad idea; 
If they are new they might rub and you'll be in agony for the whole graduation ceremony. 

If you're not used to wearing heels, you're more likely to trip over on your way to collect your award. No one wants graduation pics of them flying across the stage in a panic!
Another top tip to avoid any graduation day blunders, and one of the most important tips in this graduation ceremony survival guide, is to not drink too much champagne! It might be free, but you need to be on your best behaviour, at least until the ceremony is over. You don't really want to embarrass yourself in front of your parents and faculty, so sip the bubbly and don't get carried away! Later on, you and your friends can have your own celebration.
Avoid flattened mortar board hair by taking some spare hair grips with you, plus a hairbrush or comb. Hair grips may also be handy for pinning your mortarboard back into place if it slides down, or after you've thrown it into the air for a photograph!
How to make your graduation day unique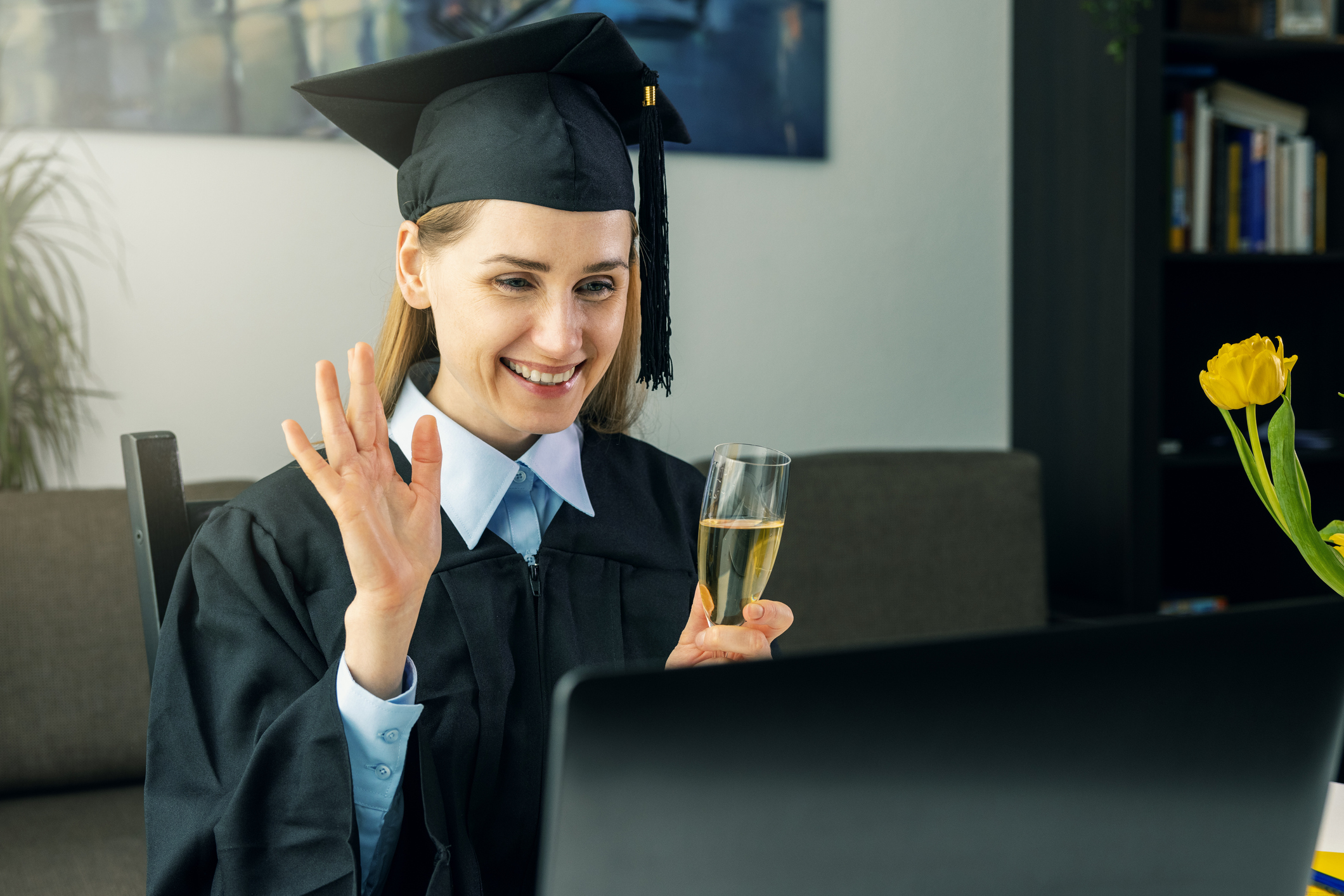 The structure of the graduation ceremony is probably set in stone already, with strict timings, seating orders and instructions to follow. So, if you're involved in your cohort's graduation planning committee, how can you make sure that your ceremony isn't just the same as every other ceremony at every other university? Small personal touches can help make your graduation day one to remember.
How about arranging to have the choir society or a group from a music degree course singing or playing a song as you walk into the ceremony room and take your seat? You'll need to choose a song that means something to your academic cohort, or perhaps choose one of the traditional and emotive graduation songs. 
This may take a little bit of organisation but it will be worth it to give the ceremony a unique atmosphere when you see everyone smiling and reflecting on their university memories before the ceremony starts.
You could also try to arrange for you and your peers to wear or carry something that unites you and celebrates your collective success. For example, you could all wear a specific university colour in your graduation outfit or an accessory. 
This can, of course, be placed under your chair during the ceremony, or it could be waved in the air while you cheer on your friends as they collect their awards. How about waving a cute graduation teddy? Think about what would be personal to you and your fellow students and get creative!
How to take the best graduation ceremony pictures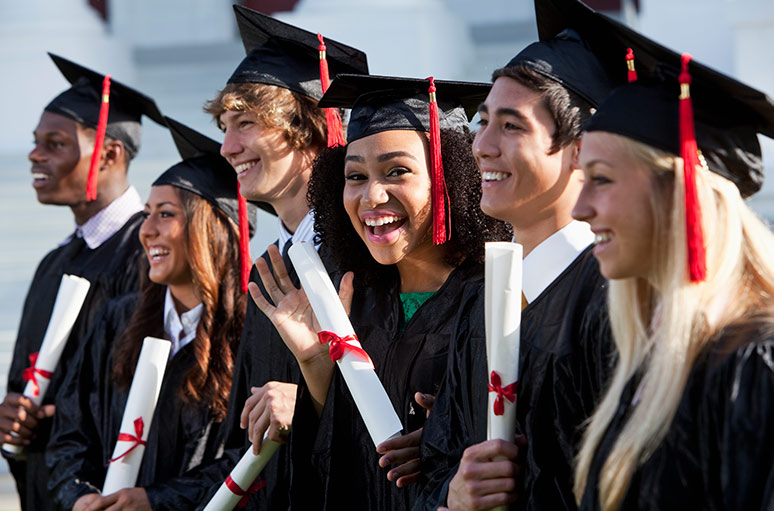 During the ceremony, you will be snapped as you shake hands with the Chancellor and collect your award, and a professional photographer may also take your picture before or after the ceremony. But you'll probably want to take your own pictures to capture more personal memories of the day.
One of the classic graduation ideas for picture poses is a group of friends throwing their mortarboards into the air. This is a difficult one to capture and it may take a few attempts to get the timing right! Other classic graduation picture ideas could be a group of graduates standing on a staircase or steps on different levels, or friends and family clinking champagne glasses.
You will need a few serious pictures to frame for family members, such as the traditional pose of you holding your scroll and smiling, but lots of graduates like taking some funny graduation photos as well. Get ready to pull silly faces, jump in the air or try creating a pyramid pose! Don't forget to get some graduation photo frames so you display your pictures around the house, or maybe by your computer in your new office?
Great graduation party ideas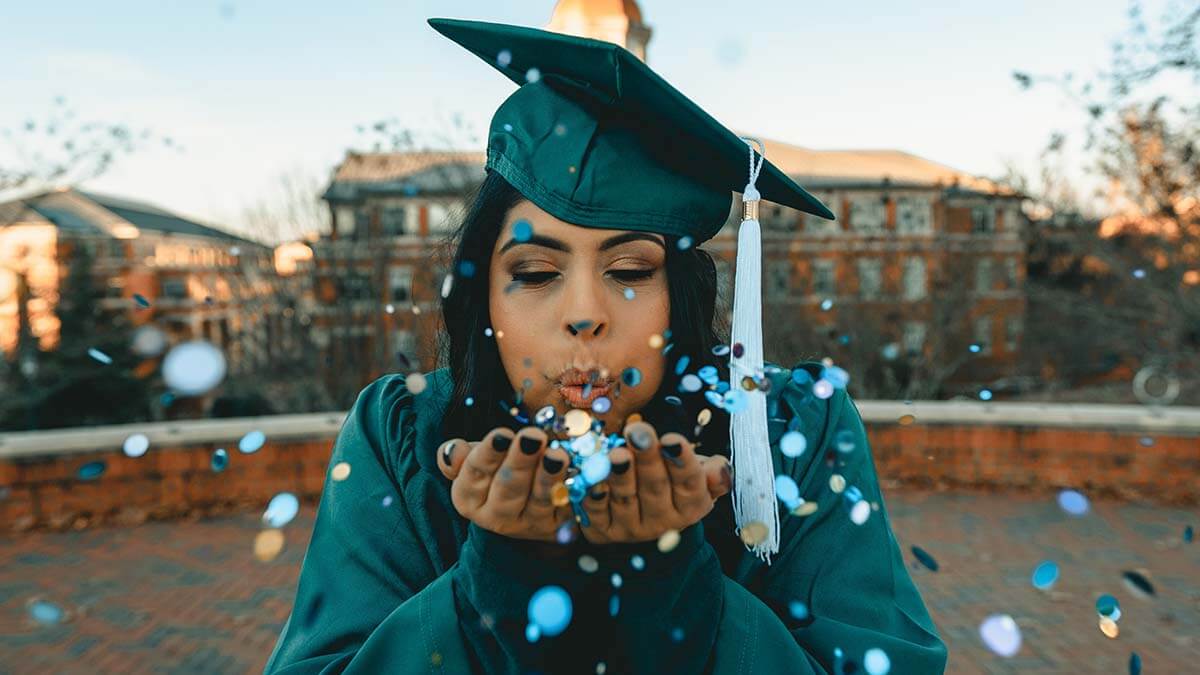 Who says graduation day has to end after the ceremony? You may have family staying with you or in nearby accommodation, so you'll probably want to include them in at least some of the post-ceremony celebrations. Plus, they may want to congratulate you with a thoughtful greeting card or graduation gift.
After the ceremony, photographs and bubbly, it will probably be late in the afternoon. We suggest booking a table somewhere in your university town where you can enjoy a nice celebratory meal, perhaps with the family members of your closest uni friends as well.
Involving your family in these celebrations are important, your parents will be extremely proud of you! But, later in the evening, you might want to throw a house party or take the party to your favourite university pubs, bars and clubs. It's up to you whether parents are invited or not! This could be your last night with your uni friends for a while so go big – you've not got any more 9 am lectures to worry about!
We're thinking fancy dress, body glitter, balloons, confetti and all things colourful, including the cocktails… Cheers!
With all the tips and tricks in this graduation ceremony survival guide to help you get through the day, your graduation celebration should go off without a hitch! And even if something doesn't go to plan, remember, it's not about having a picture-perfect day, it's about celebrating your accomplishments and being proud of yourself and what you've achieved.
Other useful links
Tips on finding a job after graduation