Christmas may be over, but there's no reason the shows have to slow down in the New Year. Read on for our guide to keeping your choir performance schedule full after Christmas.  
Hopefully, by now your choir has recovered from a hectic Christmas period filled with performances aplenty. The festive season is a fantastic time for choirs. Carols are synonymous with the holiday and so create the perfect opportunity for choirs to flex their vocal prowess at winter concerts. 
But, why should the concerts slow down just because the holidays are over? If your choir caught the performing bug over Christmas, you'll be looking to keep the show going in the New Year. 
What could be better to fight off the cold weather, dark nights and January blues than a calendar full of performances?
But, how do you keep that momentum up once the decorations have come down?
1. Review and Reflect on Christmas Performances
Any good plan for the future starts with a look back at the past. So, take time to analyse what worked well for your choir during your busy Christmas period. 
Maybe you made some new connections at local performing venues. Or added some fresh songs to your repertoire. You may have experimented with some new arrangements or pushed members of the choir to explore the full reach of their vocal range. 
A great way to get a complete understanding of your choir's successes, and where there's room for improvement, is to talk to your choir members. While the overall goal for your choir is to put on a fantastic performance, it's also important that the members of your choir enjoy themselves and feel comfortable within the choir unit. 
Take time at the beginning of your next rehearsal to sit down as a collective of singers and performers and talk openly about what went well and where there could be room for improvement. 
Giving everyone the opportunity to have their voice heard and feel represented in the choir will also help you to feel more connected as a choir and perform more cohesively in the future.
Top tip: Try using a suggestion box to get anonymous feedback from choir members. It can help quieter members of the choir to put forward their ideas.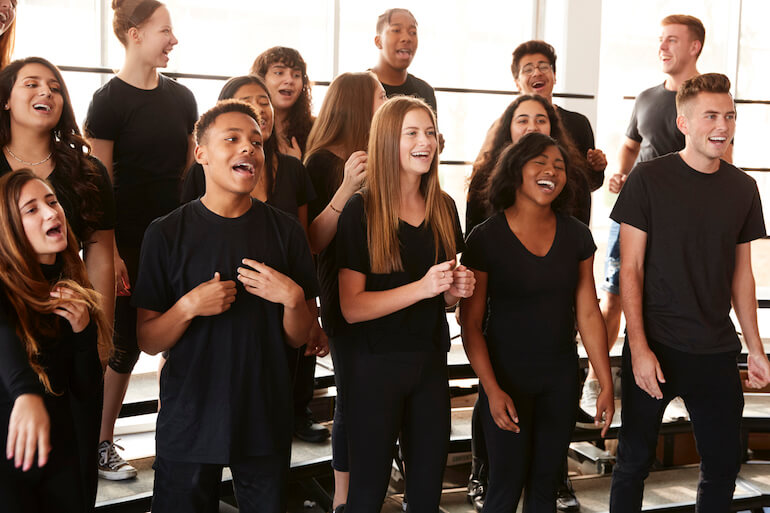 2. Reach out to the local community
Just as your choir will have been busy over the Christmas period, performing at a range of locations in your community, so to will the venues you've visited. 
Residential homes, community hospitals and other community groups are often innundated with performances over the festive holidays. However, after the tinsel is put away, they can find a drop-off in visitors and offers of performances for the patients and residents. 
Taking the time to reach out to your local community and offering to perform for residents and patients at times other than Christmas will bring a welcome boost to the start of their year.
These community performances also provide the perfect opportunity to test out new song selections or arrangements in front of a friendly, welcoming audience.
Why not see about arranging a monthly performance for the patients of your local community hospital or residential home? The staff and patients or residents will surely welcome the regular entertainment, varied song choice and your choir will get to hone their performing skills through the frequent shows for a live audience.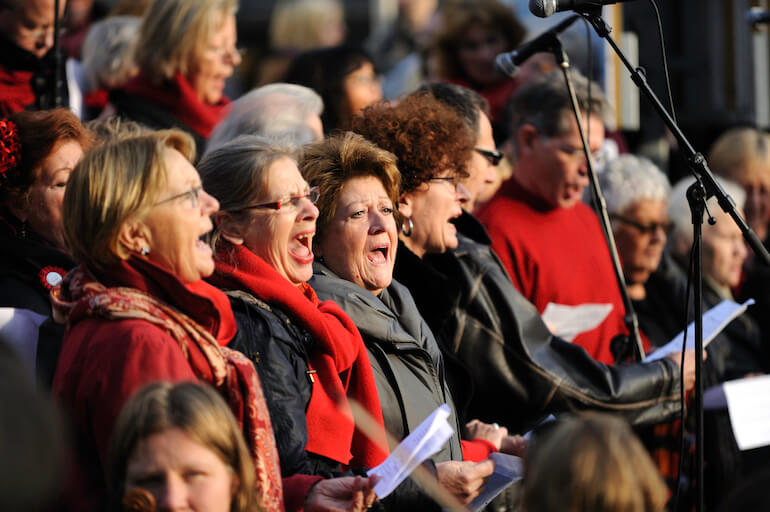 3. Find events and competitions
A great way to keep things fresh and provide new challenges for your choir is to seek out new events and festivals to perform at. 
Regional food and music festivals tend to start being held towards the end of spring moving into summer and most ask for applications from local performers and groups to join the festival line up. These festivals could be a great opportunity for your choir to reach new audiences and provide an exciting new challenge for your performers. 
Similarly, entering your choir into choral competitions could be a fantastic way to push your choir to try new things and give them a goal to work towards. There is a range of competitions around the country, from the Manchester Amateur Choral Competition to the UK Choir Festival and the Community Choirs Festival.
Or, why not think about hosting your own event or competition? You could invite a selection of other local choirs to perform on a bill with you to bring together a community of choirs.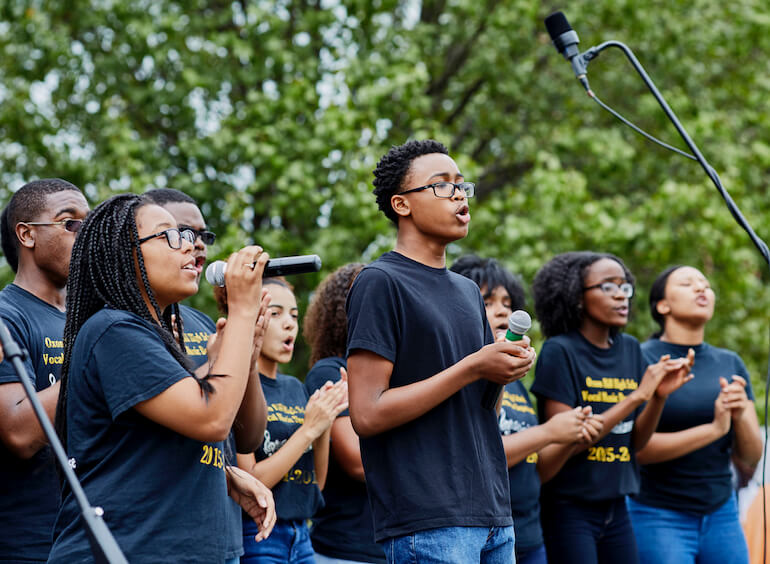 4. Create your own special occasions for performances
Christmas is a busy period when the whole community comes together. But why not plan some other events throughout the year to bring the community together?
Hosting a community meal with an after-dinner performance from your choir is a great way to bring people together. Sharing in food and entertainment is a fantastic way to connect with the community and build longlasting relationships.
How about reaching out to a local charity to arrange a charity choir performance? It's a great way to fundraise for the charity and, for your choir, it can be a brilliant opportunity to give something back to the community. 
Or, why not plan seasonal performances throughout the year to mark the starting of the new season? Most towns and villages have a harvest fair or similar celebration which your choir could look into partaking in or plan your own seasonal showcase. 
However you go about it, it is worth putting the effort into keeping your choir's momentum up following the Christmas period. Performing regularly for an audience will help your choir to grow in confidence and skill. And, appearing at new events and festivals will draw in new and varied audiences to your performances, therefore building a reputation and following for your choir.
Keep your choir looking their best for the limelight with Chorialia's choir robes, available in a range of stunning colours.