The History of the Graduation Cap
The graduation cap is an instantly recognisable symbol of achievement and distinction. But, how and why do we wear them? So, we have created this guide on how to wear a graduation cap and its history.  
Topping the entire ensemble off, the graduation hat is one of the most distinctive parts of the traditional graduation outfit. 
The graduation cap is also known as a Mortarboard, due to its close resemblance to the board which holds the mortar used by builders. Early versions of the graduation cap contained intricate designs and decorations as opposed to today's more paired-back look.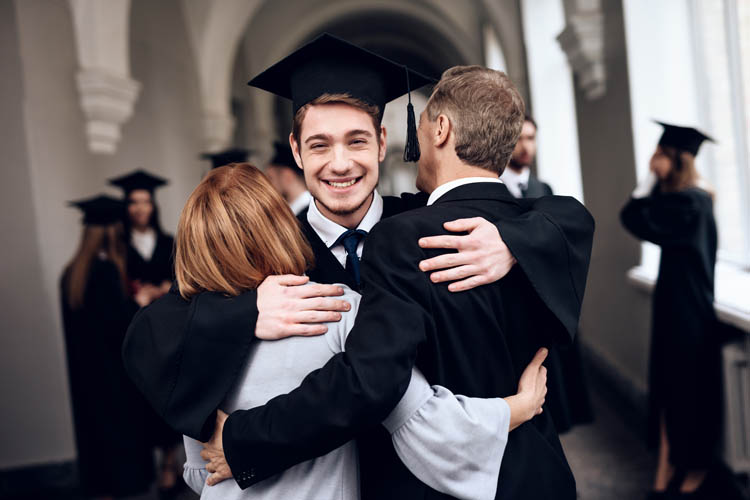 In the early days of universities, graduation caps were only worn by those who earned Doctor or Master degrees. But, as the years have gone by they have become part of the graduation attire for all graduating students, from Bachelors level upwards. 
While the overall design of graduation caps are somewhat more simple than their historic predecessors, there is room for some flamboyance. Depending on the grade and country a student is graduating in the graduation tassel may be a different colour from the traditional black. However, gold tassels are only ever worn by students who have earned the title of Doctor.
Although not enforced by all institutions, various academic establishments have required students to have the tassel of their graduation cap on the right side before the degree is awarded and then moved to the left side as they receive their award. 
So, now you know a bit more about the history of the graduation cap, let's take a look at how to wear one. 
How to Wear a Graduation Cap
A seemingly basic question that a lot of prospective graduates worry about is how to wear their graduation cap. After all, it's not every day you wonder about with a square of black felt perched upon your head!
It sounds simple, but we all have different sized and shaped heads so, naturally, it's not always a one size fits all answer.
Nonetheless, there are some basic guidelines you can follow to make sure that you feel comfortable on your big day and you and your classmates wear the traditional cap of academic regalia properly. 
The graduation cap is an essential and iconic component that completes the full graduation dress. It's a piece that you might be required to wear when you collect your degree at your graduation ceremonies.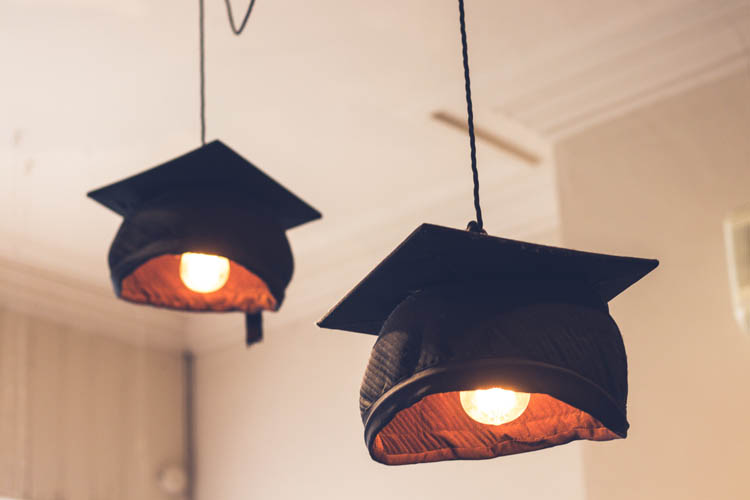 1. Get Your Graduation Hat Size Right
You can only properly wear your Graduation Cap if the size is correct. Trust us, there is nothing less comfortable than squeezing into a tight graduation cap or having it lose and baggy throughout the commencement ceremony. 
To ensure you purchase the right sized graduation cap for your head you need to accurately measure the circumference of your head. 
You can do this by placing a seamstress's measuring tape around your head. If you don't have a flexible measuring tape then you can use a piece of string to wrap around your head, marking where the ends meet and then use a ruler to measure the length of the string needed to wrap around your head. 
You want to position the tape or string one inch, or 25mm, above your eyebrows, then angle it down to the top of your ears to accurately measure where the cap will sit (see diagram below).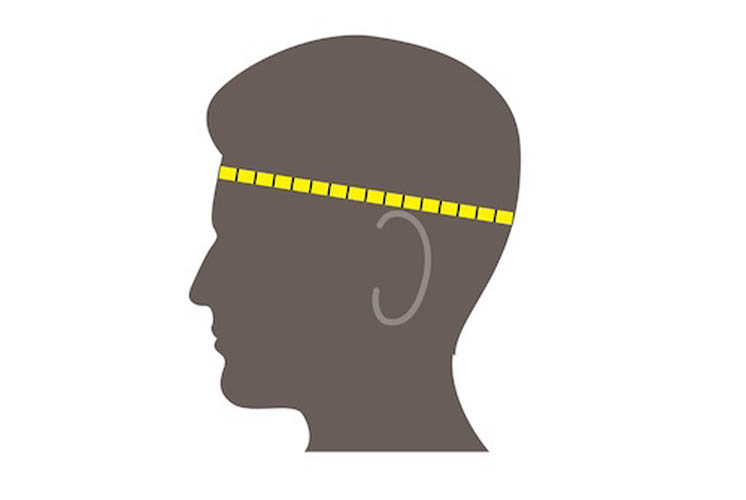 Make sure not to pull the measuring tape too tight and, if possible, ask a friend or family member to help measure for you.
If you've measured your head circumference and find it is on the boundary between sizes, we recommend going for the larger size, to allow for a more comfortable fit.
2. Put Your Graduation Cap on Last
When you're getting ready on the day of your ceremony, save the graduation cap for last. 
When getting ready for your university or high school graduation, make sure you are happy with all other elements of your dress, including your outfit, gown and hood, before fixing your graduation cap in place. 
This avoids catching the other parts of academic dress on your graduation cap and having to reset your hair. Your academic hoods are designed to be slipped over your head, which will be made twice as hard to put on should you have already fitted your graduation cap. 
The cap should be the final finishing touch to your graduation regalia. If you are struggling to figure out what to wear to your Graduation ceremony, our guides to what to wear under your graduation gown and what to wear to a winter graduation can help give you some ideas on how to look your best while feeling comfortable and confident on your day of celebration.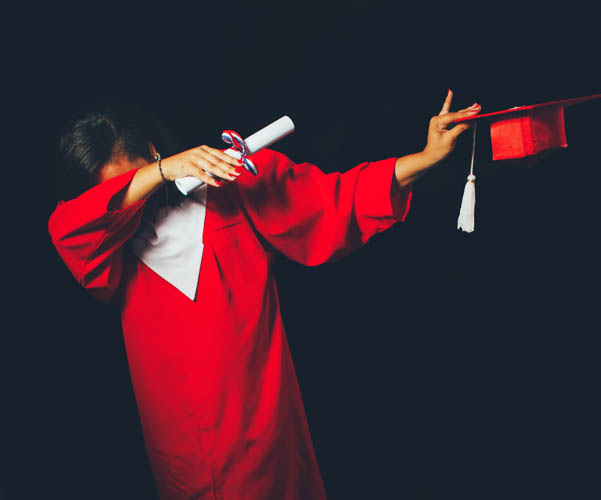 3. How to Wear Your Hair Under a Graduation Cap?
Years ago, it would only usually be people with naturally curly hair or those with fringes (bangs) who would ask this question. However, with more flamboyant and expressive hairstyles becoming the norm and more man buns and flowing Viking-esque hair emerging, this one's for you gentlemen too. 
We say wear it however you like, you want to express your personality and feel your fabulous best on your graduation day. 
But as a rule of thumb, it's best to avoid high ponytails, buns or any hairstyle that won't allow the cap to fit on easily. 
From our perspective as long as your cap is comfortable and can be secured in less than 5 minutes, you have nailed it. If you have bought your graduation cap beforehand, it's a great idea to practice different hairstyles until you find your ideal graduating look.
On the day, be sure to have plenty of hairpins on hand to help fasten your graduation cap to your head to avoid any accidental slips. No one wants to look back on their graduation pictures to discover they had crossed the stage with a wonky cap!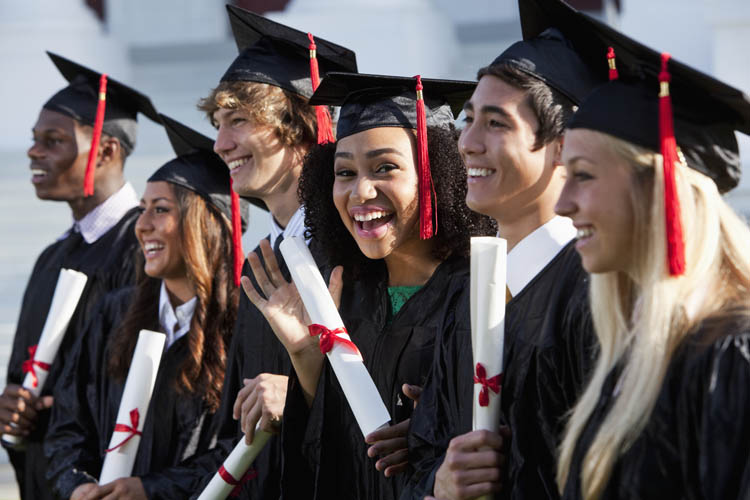 4. How to Fit Your Cap…the right way round!
Firstly, it's essential to make sure you have put on your cap correctly.
It should be clear from looking at your graduation cap itself which way is the front and back, this is sometimes shown by an elastic band at the back. 
Make sure that the pointed tip of your cap lies on your forehead and sits about an inch above your eyebrows. When you place it on your head, try to get it as central as possible before securing it on your head. 
Following an American born tradition, you place your tassel on the left initially, before moving it to the right-hand side once you've graduated. However, this tradition is less adhered to in the United Kingdom.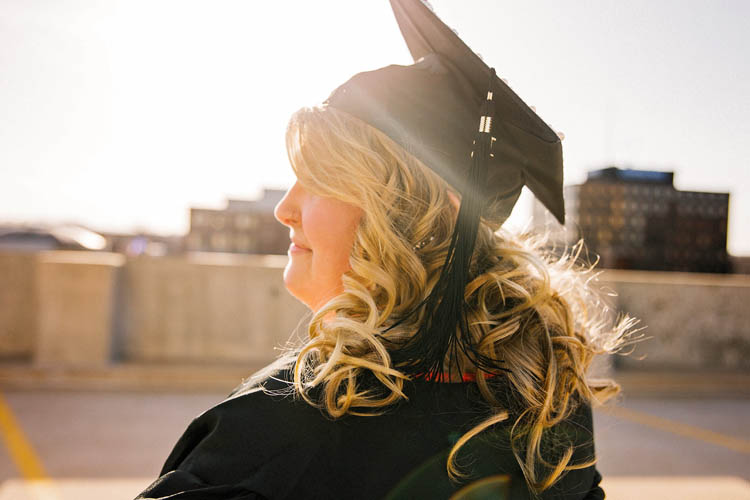 5. How to Secure Your Cap
With all the celebratory hugging from friends and family, jumping victories and general excitement on your graduation day, your cap needs to be as secure as possible. You don't want to lose your cap in a gust of wind! 
A well-fitted cap shouldn't need further securing, but if you would like an extra backup, there are a few options. Bobby pins and grips are the go-to solutions to avoiding your cap getting knocked or sliding around. 
And, if it does get knocked by your over-excited auntie, have a few in your pocket or bag spare for a quick fix. A small amount of low-hold hair styling products can also aid in keeping your hairstyle in place and your graduation cap sitting tight.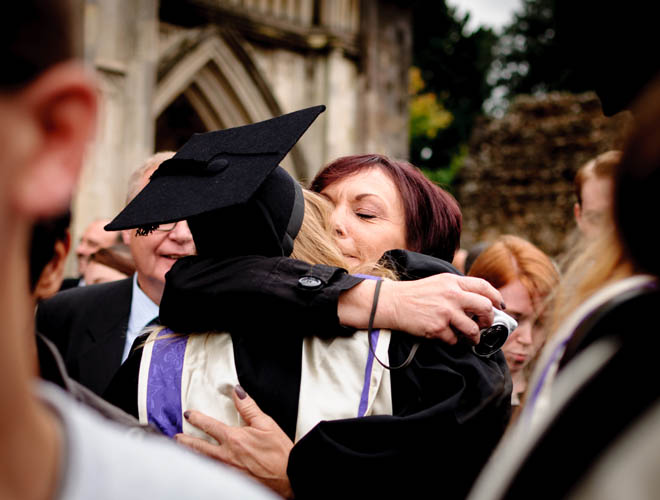 So, now you know a bit about the history of the mortarboard, how to properly wear your graduation cap and how to stop any potential loose caps, all that's left is to celebrate! 
Whether you keep up the historic tradition of throwing the cap in the air, as first recognised in 1912 in Annapolis, Maryland, or have a more subdued celebration, we hope you enjoy your day.
From everyone at Graduation Attire, congratulations on graduating in your field of study and we are sure you will look fantastic collecting your award in your cap and gown.
If you are still on the lookout for your own cap and gown, then Graduation Attire can help you find your perfect fit.