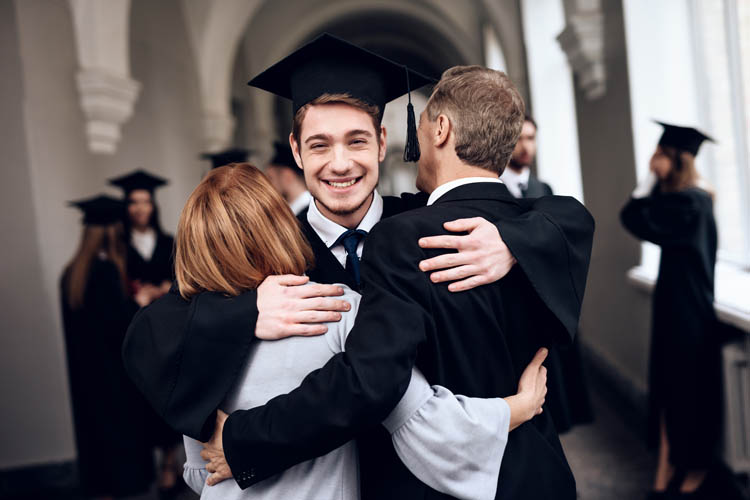 A seemingly basic question that a lot of people ask, is how to wear a graduation cap. Sounds simple, but we all have different sized and shaped heads so it's not always a one size fits all answer.
Nonetheless, there are some basic guidelines to follow to make sure that you feel comfortable on your big day and you and your classmates wear the cap of traditional academic regalia properly. The Graduation Cap, or Mortarboard as it's otherwise known, is an essential and iconic component that completes the full Graduation dress. It's a piece that you might be required to wear when you collect your degree at your graduation ceremonies. From tips on when to fit your graduation hat to graduation hat hair ideas, read on for a complete guide on: How to Wear a Graduation Cap.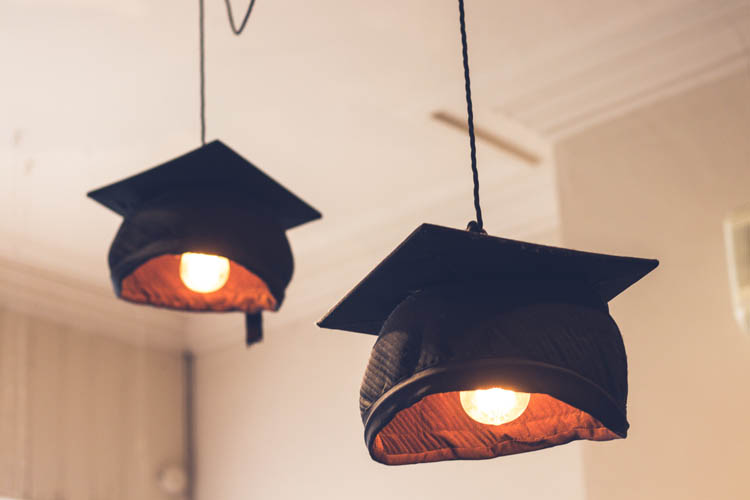 1. Get Your Graduation Hat Size Right
You can only properly wear your Graduation Cap if the size it right. Trust us, there is nothing less comfortable than squeezing into a tight graduation cap or having it loose and baggy throughout the commencement ceremony. Place a measuring tape around your head, one inch or 25mm above your eyebrows then down to the top of your ear (see diagram below). Make sure not to pull the measuring tape too tight. If possible, ask friends or family members to measure for you.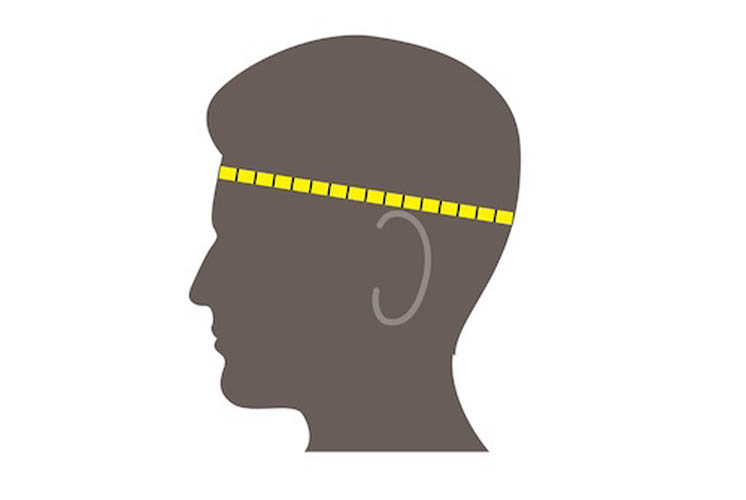 If you've measured your head circumference and it is on the boundary between sizes, we recommend going for the larger size, allowing a more comfortable fit.
2. Put your Graduation Cap on Last
Save the graduation cap for last. When getting ready for your university or high school graduation, make sure you are happy with all your dress. This avoids catching the other parts of academic dress on your graduation cap and having to reset your hair. Your academic hoods are designed to be slipped over your head, which will be made twice as hard to put on should you have already fitted your cap. The cap should be the final finishing touch to your graduation regalia. If you are struggling to figure out what to wear to your Graduation ceremony, then please click on the blog post below to ensure your attire looks perfect for your big day! What to wear under your graduation gown ideas.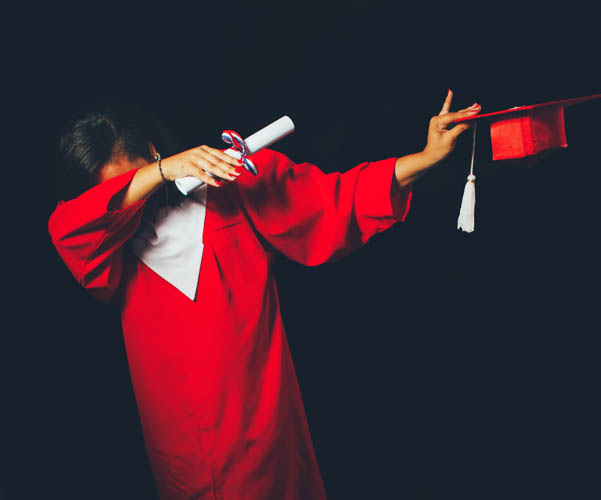 3. How to wear your Graduation Hat Hair?
People normally ask this question when they have naturally curly hair or a fringe (bangs). But with more man buns and flowing Viking hair emerging, this one's for you to gentlemen. We say wear it however you like, but as a rule of thumb avoid high ponytails or a hairstyle that won't allow the cap to fit on easily. From our perspective as long as your graduation cap is comfortable and can be secured in less than 5 minutes, you have nailed it. If you have bought your graduation cap beforehand, it's a great idea to practice different hairstyles until you find your ideal graduating look.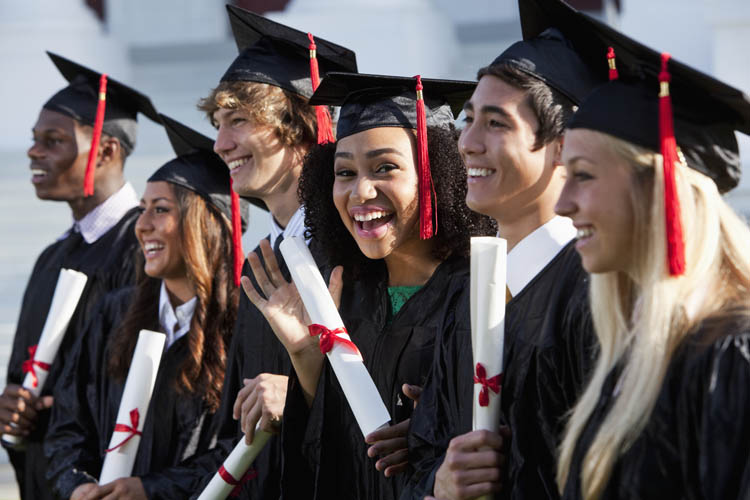 4. How to Fit Your Graduation Cap…the right way round!
Firstly, make sure you put on your cap correctly. Your graduation cap itself will distinguish which is the front and back (sometimes shown by an elastic band at the back). It should be clear which side of the cap is the front. The pointed tip of your cap lies on your forehead and sits about an inch above your eyebrows. When you place it on your head, get it as central as possible before securing on your head. Following an American born tradition, you place your tassel to the right-hand side once you've graduated.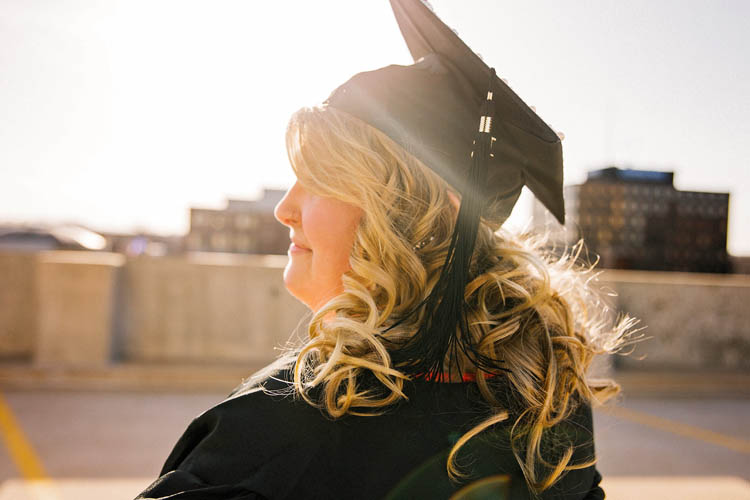 5. How to Secure Your Cap
With all the celebratory hugging from friends and family, jumping victories and general excitement on your graduation day, your cap needs to be as secure as possible. You don't want to lose your cap in a gust of wind! A well-fitted cap shouldn't need further securing, but if you would like an extra backup, here are a few options. Bobby pins and grips are the go-to solutions to avoiding your cap getting knocked or sliding around. And if it does get knocked by your excited auntie, have a few in your pocket or bag spare for a quick fix. A small amount of low-hold hair styling product can aid in keeping a graduation cap tight.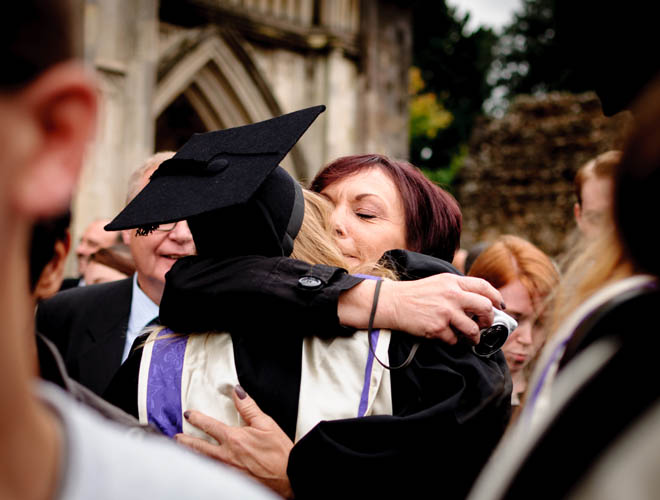 6. Happy Graduation Day!
Congratulations on graduating in your field of study and we are sure you will look fantastic collecting your award in your graduation cap and gown. If you are still on the lookout for your own, then see our Graduation Caps area to get your perfect fit!