As we approach Ash Wednesday, and the traditional 40 days of fasting and forgoing that Christians observe during
Lent
, it's the perfect time to prepare for your choir's Easter Hymn performance. 
For people who follow the Christian faith, Easter is the most important day of worship. It is a time for remembrance and contemplation of the sacrifices made by Jesus. 
The holy day is also a time of celebration, of renewed life and the welcoming of spring. 
Easter Sunday church services are filled with joyful songs, communion and shared worship as congregations celebrate the resurrection of Christ. 
On this day, church choirs the world over will perform in front of their congregations, raising their voices in praise of God and Jesus. 
So, to ensure your choir puts on a spectacular performance this Easter, why not take the time to spring clean your Easter hymn selection? Read on for our tips to make your Easter performance extra special. 

Play with new arrangements
A great way to freshen up a performance is to play around with different arrangements of your favourite Easter Hymns.
Singing in the round or in canon can create a wonderful effect as various sections of your choir sing a hymn at different times. Choosing an Easter hymn with a repeating chorus or motif makes this technique particularly effective. 
To conclude a song sung in the round or in canon, your choir could take two different approaches. 
You could opt to come together as a complete choir in a final crescendoed verse. Joining the forces of your voices in this way can create a feeling of joyful, rousing worship within your choir and the congregation. 
This style of conclusion is best suited to more up-tempo, celebratory hymns in a major key such as; Joyful, Joyful, We Adore Thee  
Or, you could have each section fade away as they reach the conclusion of their final round of the hymn until just one section remains. This can create a very poignant moment in your performance. 
As the voices in your choir fade away the melancholic absence of sound allows for a moment of quiet contemplation amongst the members of the congregation as they absorb the words of the hymn and reflect on their meaning.
This style of conclusion is often best suited to more subdued hymns in the minor key such as; How Deep the Father's Love for Us. 
Or perhaps you could include a prolonged sforzando in a canonic fashion in your piece. Having this lead to a fadeaway but slowly coming back into the piece creates an incredibly atmospheric effect, especially in reverberant churches.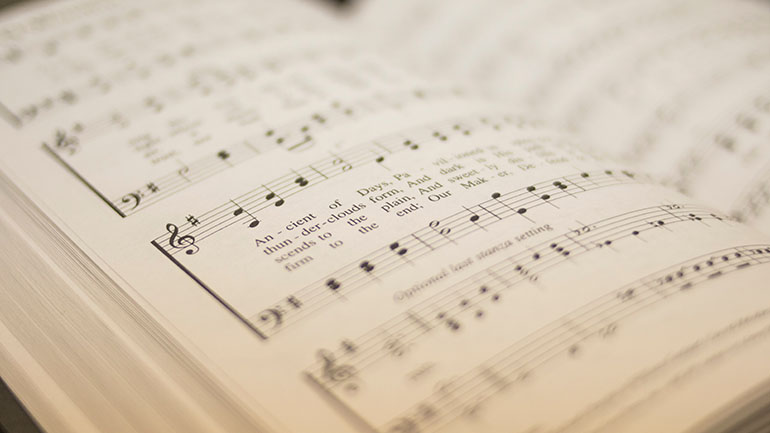 Try something new
Music is constantly evolving, with new sounds and genres emerging all the time. Hymns are no different.
There are many people across the world producing modern songs which provide the perfect opportunity to freshen up your Easter hymn selection with a contemporary song of worship. 
Using contemporary songs in your choir's Easter performance can help to engage the congregation as you'll surprise them with songs they may not have heard before. 
Praise Charts have a fantastic selection of modern Easter hymns that are sure to spruce up your choir's Easter Sunday performance. 
Some of the most popular contemporary Easter hymns are; 
At the Cross (Love Ran Red)

from Chris Tomlin

Resurrecting

from Elevation Worship

They Could Not

from Sandi Patti

This Is Amazing Grace

from Phil Wickham

Forever

from Kari Jobe
Modernise the classics 
While experimenting with new songs is a great way to spring clean your Easter hymn selection, the traditional Easter songs are popular parts of Easter services for a reason.
The congregation and choir members alike will have certain expectations of what songs should be included in your Easter performance. 
Amazing grace is a traditional hymn sung at many Christian celebrations including Easter, and Jesus Died My Soul to Save is also a classic Christian hymn favoured at Easter. 
There's no reason that a spring clean of your Easter song selection should mean completely removing these traditional favourites. However, it is a good opportunity to look at the songs that are currently in your choir's repertoire. 
By taking this time before Easter to assess whether your choir's performance of certain songs could be improved, you'll ensure your choir puts on a pitch-perfect Easter Sunday performance.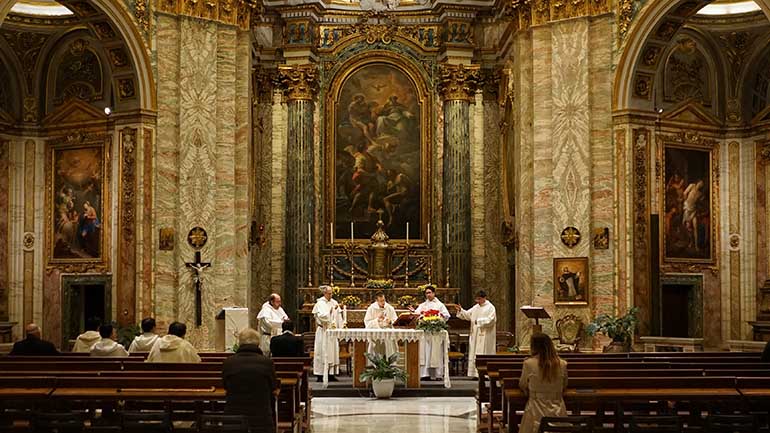 Experiment with partner songs
Partner songs are performed in a similar way to songs sung in the round or in canon. However, where performances in the round feature one song sung at different times, partner songs are two different songs that work well sung together. 
For two songs to work when performed as a partner song, they must have the same melody and be the same length; or have a repeatable verse or chorus to bring the lengths in line.
A very basic example of partner songs are She'll Be Comin' Round the Mountain and When the Saints Go Marching In. These could be used in a warm-up exercise to get your choir familiar with the concept of partner songs. 
To begin with, it's best to work with two songs that are in the same key to make merging them easier. As your choir becomes more proficient you can explore key changes. 
Go Down Moses and Joshua Fought the Battle of Jerico are two hymns that can work well together as partner songs, you can find more sheet music for hymns here. 
This style of performance takes some work to get right and may feel daunting for your choir at first. But, once everyone is familiar with each song on its own, putting the two together should come naturally.
And the effect of creating harmonies within your choir from two different melodies is a true treat for the ears; sure to add something special to your Easter Sunday performance. 
Easter Sunday is traditionally a time when churches are decorated in blooms of spring flowers and congregations, clergy and choirs wear their finest and most brightly coloured clothes to service.
The bright colours represent the coming of spring and the rebirth of the world. Ensure your choir looks its best this Easter by dressing your members in the Choralia traditional choir robe.