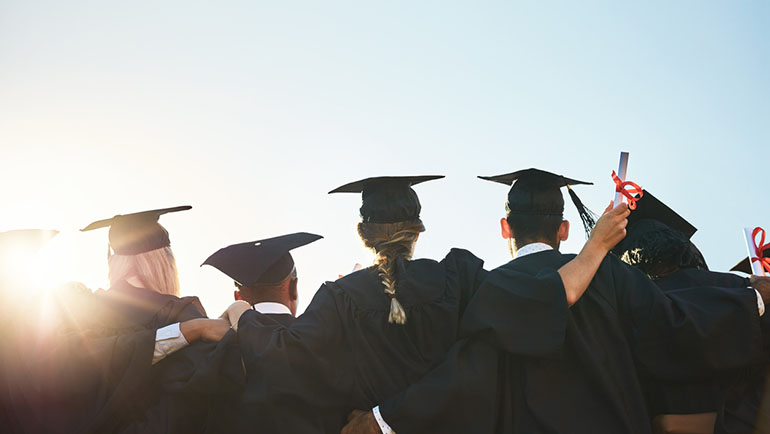 What to wear under your graduation gown
Your graduation ceremony is a day of celebration. It's a time to celebrate your achievements and successes with your family, friends and peers. but there seems to be confusion as to what to wear under your graduation gown. 
Receiving your degree from your institution is the culmination of years of hard work and studying. It's an opportunity to take time to bask in the relief of completing this phase of your life, before moving on to the next stage of your career. 
You want to spend your graduation able to focus on enjoying your day without worrying about little things like getting a shoe stuck in the grass as you walk around after the ceremony or your hood slipping from your shoulders as you cross the stage. 
Planning ahead of time and taking some simple sartorial decisions into consideration can help you to ensure your day is spent focusing on your academic achievements rather than fussing over your outfit and appearance. 
Every graduate will be topping their outfit off with a mortarboard, graduation gown and hood in your institution's colours, but what you wear under your graduation gowns is completely up to you. 
So, to give you a helping hand to look your best on your graduation day, we've compiled this guide filled with ideas and tips for what to wear for graduation. 
What to wear to graduation
Generally, graduation ceremonies don't have set dress codes. However, the standard is almost always smart. It's a big occasion and worthy of dressing up and feeling special for. 
But, the outfit you pick for your graduation should also be something you feel comfortable in. 
There's often a lot of formalities before and after the ceremony and you'll be sat for a while during the ceremony as various faculty from the institution address the audience. So, you want to strike a balance between comfortable and dressy with your graduation outfit.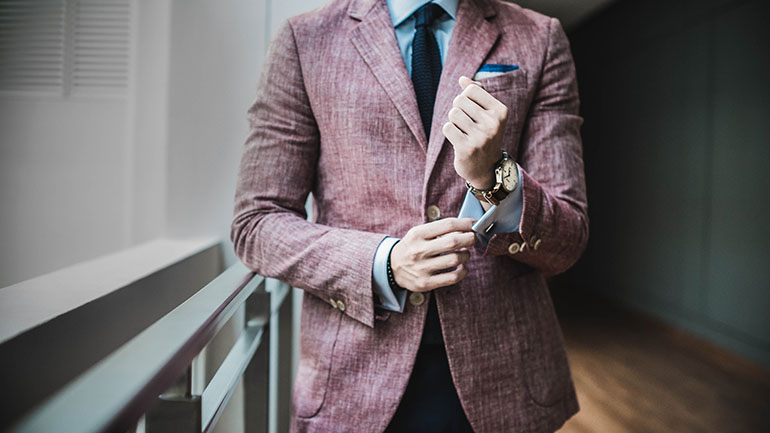 Graduation outfits for men
For men, whenever a formal event arises, it's usually the time to pull out your best suit, shirt and tie. This sounds simple enough but there are still a few considerations to take into account when it comes to choosing a suit for your graduation. 
Two or three-piece
Whether you opt for a two or three-piece is down to personal preference. But, don't forget, you'll be adding a gown on top so for summer ceremonies a three-piece might be good so you can take off your jacket but still look formal in your waistcoat. 
Fabric choice
Again, this is about personal preference and how warm you're likely to get. For summer ceremonies, a crisp cotton or even linen suit can be a great option. While for winter graduations you might prefer to wear a thicker wool or polyester suit to keep warm.
Colour and Design
Generally, people will usually opt for a dark coloured suit in a grey, black or navy with a light coloured shirt. However, there's nothing stopping you from expressing your personality with your suit selection. Picking a patterned shirt or eye-catching tie can be a great way to flash your style on your graduation day.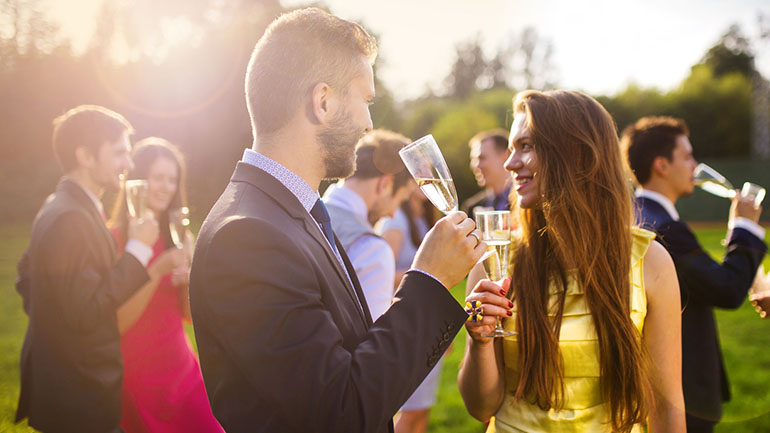 Women's graduation outfits
For women on their graduation day, there are a lot of options to consider. Do you go for a dress, a skirt and top or a stylish pantsuit? There are pros and cons to all these options and ultimately it, again, comes down to personal preference. Another consideration is what time of year your graduation is being held, click to read our specific advice about what to wear to a winter graduation. 
Dresses 
A smart, stylish dress is always a classic option for women's graduation dressing. You'll find plenty of suitable options on the high street and in high-end retailers. Generally, knee-length or 'midi' length dresses are a popular option as the dress can still be seen below the length of your gown. 
One thing to consider with your dress choice is the impact of the unpredictable British weather on your day. To avoid being caught out by a strong gust of wind or a sudden downpour, it might be best to avoid anything too short or floaty and any sheer fabrics. 
Skirts and smart tops
If a dress isn't for you, a skirt and smart top combo can be a great option to wear under your graduation gown. Again, 'midi' or knee-length skirt is generally the preferred option. 
There's loads of room to show your personality with a skirt and top graduation outfit. Whether you lookout for a matching set, go for a bold top with a simple skirt or pick a striking skirt and keep the top simple, mixing and matching items is a great way to create a graduation outfit that's unique to you. 
Pantsuits
If skirts and dresses aren't your thing then a pantsuit can be a great option to wear under your graduation gown. From patterned blazers and cigarette trousers to bold retro wide-legged pants with a tailored jacket, suits are a versatile option for graduation. 
You could pair your stylish suit with a crisp cotton shirt for an androgynous look or pick a feminine silky blouse depending on your tastes and style.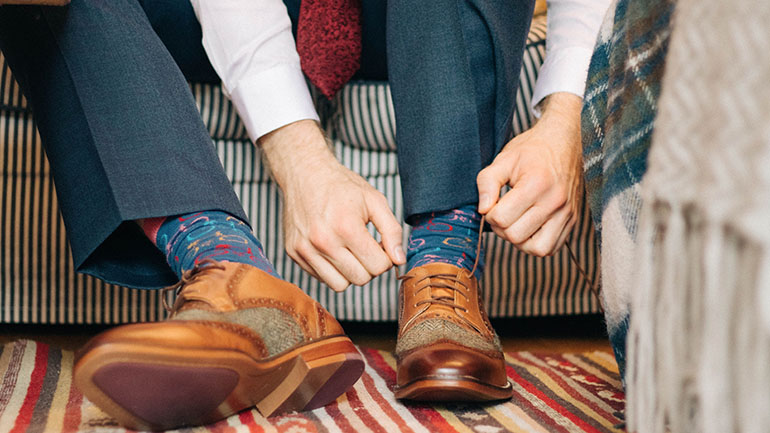 What shoes to wear to graduation
Footwear is another big consideration when planning a graduation outfit. There's inevitably going to be quite a bit of standing around on the day of your ceremony, so more than any other part of your outfit, being comfortable is key. 
And, of course, we can't forget about the changeable British weather, so choosing a pair that can handle rain or shine is always a good idea.
Men's graduation shoes
A pair of smart leather shoes in a colour that complements your suit is generally the preferred option. Avoid trainers or any sort of canvas shoes as you may be walking over damp grass during the after-graduation reception. Your shoes are likely to be the part of your outfit which stand out most as you walk across the stage, so pick something you don't mind being noticed and won't regret in years to come. 
Women's graduation shoes
A chunky block heel can be a good option if you want the poise and posture that naturally comes from wearing a heel. Or, stylish yet practical flats can be a great option; a pair of smart loafers or chic ballet pumps can top your outfit off perfectly. 
It's best to avoid anything too high or thin when it comes to heels. Skyscraper stilettos are a recipe for disaster when it comes to walking across a graduation stage or navigating grassy lawns after the ceremony.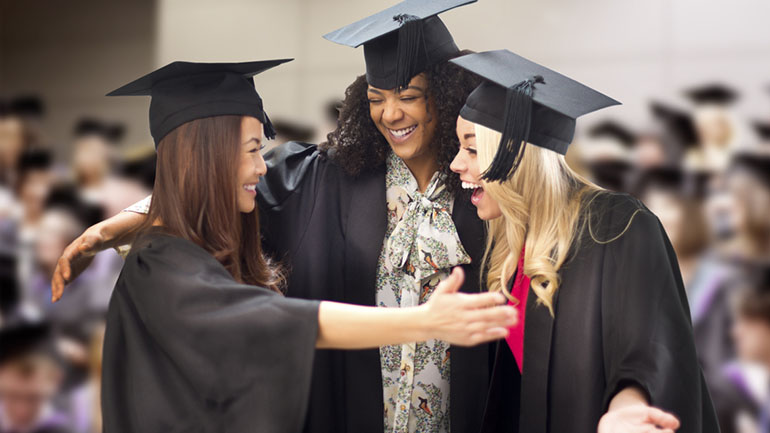 Completing your graduation look
The mortarboards all graduates are required to wear are particularly unforgiving on elaborate hairstyles. They tend to flatten anything they're balanced on top of and can become precarious if subject to too many lumps and bumps. 
Men's hairstyles for graduation
If you have got long hair, tying it back in a low ponytail or bun is a good way to keep hair looking smart on your graduation day. 
Or, if you've got shorter hair, you may have to prepare for some degree of hat hair! It might be a good idea to have some hair gel or wax on standby for touch-ups after the ceremony. 
Women's hairstyles for graduation
High ponytails, buns, spiked up or voluminous hairstyles can all make fixing a mortarboard to one's head a nightmare. 
Instead, try opting for a sleek low ponytail or chic coiled bun at the nape of the neck. With these styles, your hair will remain off your face while leaving the top of your head free for the mortarboard to rest upon. 
Or, if you want to have your hair down, a sleek straight style or gentle waves can look stunning as you make your way across the stage. Whatever style you opt for, remember to bring plenty of grips and hair slides to keep your mortarboard pinned firmly in place. 
Whatever you choose to wear for your graduation, you're sure to look fantastic as you cross the stage to become a graduate. It's your special day to celebrate all you've accomplished through hard work and study. So, from everyone at Graduation Attire and Evess, congratulations and well done!
Of course, any graduation outfit wouldn't be complete without the traditional mortarboard, graduation gown and hood so, to book your graduation attire visit the links below. 
For Colleges and other Institutes: 
For university-specific bookings: