Nursery graduation ceremonies are a good way to enhance the fun and positive aspects of education for children with the celebration encouraging them to be more engaged with learning and using positive reinforcement to reward them.
Nursery graduations are by nature less formal than university graduations but they do serve as a fun way for children to dress up and have a fun day out. Below, we've listed some tips on how to prepare your child for graduation day and get the most out of the ceremony. 
A child's graduation outfit doesn't differ too much from the robes used in a university graduation ceremony though there is less history and formality behind them, instead being used as a way for children to experience some fun that can make education a more positive experience for children as they grow up. 
Graduation gowns for nursery still hold the same symbolism as for other graduation ceremonies however. For children, nursery graduation robes symbolise change as they start to progress through their graduation. 
The classic mortarboard cap also signifies success and achievement, helping the graduating children to feel like they can reach goals and inspire them to participate more enthusiastically in their primary studies as a result. 
When it comes to the nursery graduation ceremony, one of the most important things is for the child to be wearing their nursery graduation gown and cap correctly, enabling the ceremony to be as successful as possible. 
If you've graduated from a college or university before, you'll know the ins and outs of making sure a graduation gown is worn properly and it will be easy to make sure your child is fitted correctly as well. 
In university graduation ceremonies, it is expected that graduating students should wear formal attire beneath their gown. The rules are likely to be a bit more lax when it comes to nursery graduations. 
Make sure that when putting on the nursery graduation robes, the children's arms go all the way through the sleeves or slits. Make sure that the robe is kept forward and doesn't fall back. It will be simple to adjust if there's a problem but it's always best to have it forward and sitting straight on their shoulders. 
Many of our nursery graduation robes follow the American zip front style so you won't have to worry about hanging the hood correctly and keeping the V-shape at the front of the hood hooked on a button to stop it riding back. If your child is not wearing a traditional child's graduation outfit, all you have to do is zip up the gown and they'll be ready for the ceremony.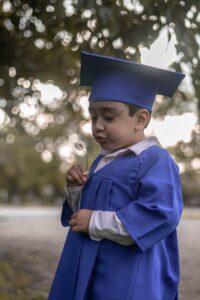 Children's Graduation Cap
Our graduation caps follow the traditional mortarboard design, regardless what the style of the nursery graduation robes is. 
The general rule for wearing a mortarboard graduation cap is to have it worn flat on the head so that the flat parts of the cap are parallel to the ground. Put the pointed tip of the cap to the front of your child's head and make sure it's firmly in place. There should be about an inch between the cap and your child's eyebrows. 
It can be difficult to keep the cap in place over the course of the nursery graduation ceremony so to keep it on and avoid your children fiddling with it too much, you can secure it with hair clips or pins. 
As this is a nursery graduation ceremony, the side of the cap the tassel falls on doesn't hold as much educational significance. If in doubt though, have your child wear the tassel on the right side. This is the same side that is used for graduations in undergraduate degrees, allowing you to more easily follow tradition.
The Day of the Nursery Graduation Ceremony
Before the day of the ceremony, make sure you've practised with your child how to put on their nursery graduation gown and cap. This will help the day of the ceremony to go a lot smoother, putting less stress on you and ensuring your child can have as much fun as possible. 
Don't forget to take pictures of your child in their graduation gown and cap to keep the memories. If they are wearing their nursery graduation robes and their mortarboard cap correctly, the pictures will be something to look back on in pride. 
All that's left to do now is sit back and enjoy the ceremony as your children collect their certificates.
A nursery graduation is a good way to help prepare your child for the events and ceremonies they will need to attend in later life but it's also important to make sure it remains fun and light-hearted for them. 
Preparing your child's graduation outfit should be a fun activity to help you bond and develop their aspirations as they progress onto primary school. As nursery graduation ceremonies become a more significant part of UK culture, helping your child to wear their cap and gown correctly will go a long way to preparing them for their successful future.