Graduating is a huge achievement and signifies a pivotal moment in anyone's life. All the hard work has finally paid off, and you can enjoy a graduation day celebration with your friends and family. Studying, revising, and exams can be a daunting and stressful ordeal — so it's safe to say that you and your friends deserve to let your hair down. 
And while many people view days such as this as another excuse to drink too much, we have a few ideas about making graduation day 2023 a memorable occasion. After all, you'll want to be able to remember it. But that's not to say you can't enjoy a tipple or two!
How to Celebrate Graduation Day
Celebrate However You Want to Celebrate
The first and most crucial piece of advice we can offer is that there are no strict guidelines for how to celebrate graduation day. Every graduate is unique and should plan a graduation day that suits their needs, makes them happy, and creates fond memories. For some, this can entirely revolve around graduation ceremony ideas, whereas for others, it's more about experiences beyond the actual ceremony.
With that said, it's essential to ensure you are prepared for the ceremony, which means you need the appropriate graduation attire. At Evess, we provide caps, gowns, and a range of accessories for graduates of all ages. Whether you're graduating from university or any other stage of education, we've got you covered. 
Graduation Day Party
The classic graduation day celebration idea, and with good reason. Although organising a party can be a handful, it provides the most straightforward and cost-effective solution. After all, no one is expecting a Gatsyby-esque extravaganza. 
Whether you're planning an intimate get-together for friends and family or a larger-scale event, graduation parties are a fantastic opportunity for everyone to hang out and celebrate. After all, studying and exams can sometimes be very stressful and pressurised. A party not only signifies the end of a challenging yet rewarding period but also gives graduates a chance to let their hair down.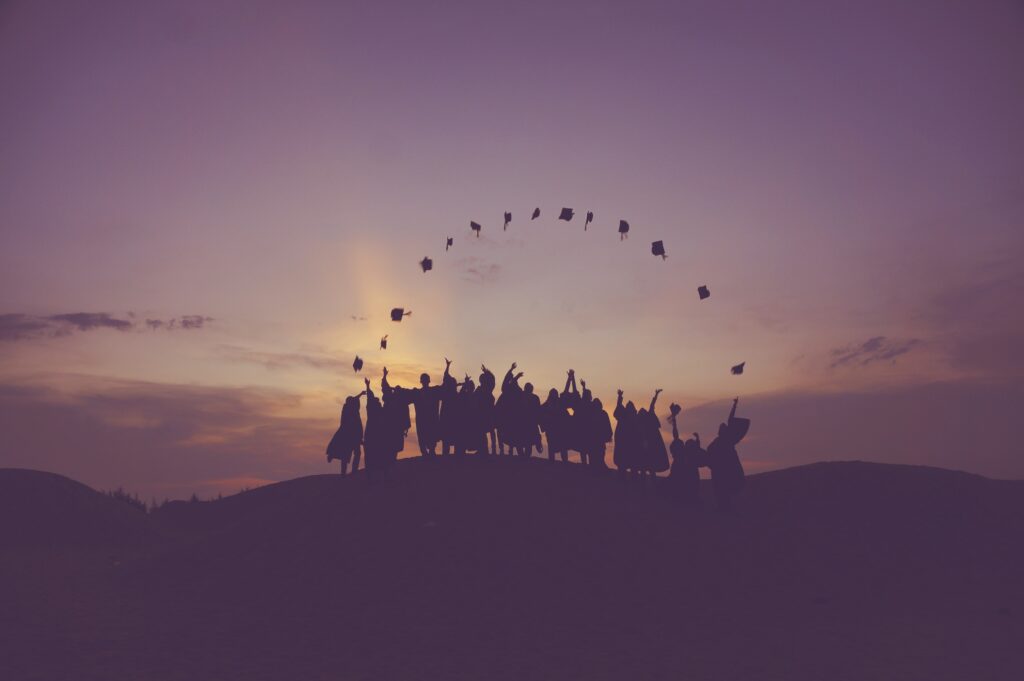 Graduation Day Meal
Another great idea is gathering a few friends together for a meal, a simple yet memorable graduation day celebration. Graduations tend to occur at varying times throughout the day, as there are many classes and areas of study to get through. So, depending on when your graduation is scheduled, you can book a meal to suit your specific timeframe. 
Graduation brunch has become a particular favourite amongst graduates as it helps settle everyone's nerves and offers quality time before the big event. However, it might be best to avoid a 'bottomless brunch' as it's never a good idea to arrive at your graduation a bit… wobbly. Save that for the party shenanigans!
If you are somewhat pressed for time on the day, you can always plan the meal before your graduation ceremony. This does provide a few advantages as you'll be socialising without the pressure of the big day and it'll give people a chance to seek and offer advice. For example, people may need last-minute graduation gown ideas, advice about wearing the right shoes, etc. Plus, there's no risk of someone ruining their graduation cap and gown by spilling food or drink on it — always a bonus!
Take a Trip!
While many people are very invested in the idea of a graduation party, some alternatives can be more memorable. A trip, for example. It doesn't have to be anything too expensive or extravagant, just a short trip that suits everyone's budget and ensures your graduation is celebrated in exciting fashion.
Thankfully the restrictions and dangers of Covid-19 have eased significantly, and travelling, even abroad, is back on the cards. With that said, domestic trips are often a better bet as it's more time and cost-effective. Getting away for a few days is also a fantastic way to refresh and clear your head after lots of hard work and dedication.
For some, a trip with family members is preferable as many students study at universities away from home and don't see family as frequently. Marking such a big occasion with those who love you the most is a very special way to commemorate the event while showing your appreciation for their support over the years.
Special Events and Experiences (Spa Day, Concert, etc.)
When people think of ways to celebrate graduation, many choose parties and similar graduation ceremony ideas. Instead, why not celebrate such a grand occasion with something more unique? This is a great way to optimise the experience to suit graduates' specific needs and interests. For some, relaxation is a much-needed and truly beneficial idea, such as spa days and retreats.
For others, attending an event such as a concert, play, exhibition, or something similar is the perfect option. Events such as these are great for enhancing the excitement and fulfillment that surrounds graduation. Although the build-up and ceremony are undoubtedly memorable in their own right, special events can be the cherry on top that ensures the day and night will never be forgotten.
Many people find graduation a bittersweet moment as it's the end of one chapter, but it opens the door for new opportunities and adventures. Therefore, it's always crucial to recognise the importance of these occasions and the time you spend with those closest to you. Regardless of how you intend to celebrate your graduation, make sure it's one to remember!
Are you ready for graduation? Evess is a leading provider of graduation attire and accessories. We ensure you have everything you need to look the part and be fully prepared for such a special occasion. Check out our online store to find a range of graduation caps, gowns, accessories and more.