Welcome to our Barrister gift guide. Whether a recent celebration, birthday or another occasion, buying a gift for your budding lawyer or barrister can be a challenging decision to make.  After all the hard work that goes into such an incredible achievement, your barrister deserves a gift that tells them you understand the significance of such accomplishments.  We have compiled the perfect list of gifts that will show your loved ones how proud you are of them. Our products are lasting gifts that have meaning and usefulness that will last an entire career. 
Legal Gowns
One of the most important aspects of a barrister's attire is their gown. The all-black garment has stood the test of time having first been worn in the 1300s as a testament to one's commitment to justice. The black gown, much like a priest's, is worn to showcase the barrister's life commitment to making the world a better place through law.
Our gowns are of the highest quality and made with a lightweight, twill weave polyester; this product will last a lifetime and is legal attire for any courtroom worldwide.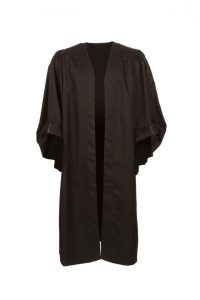 Legal Wigs
Our beautifully crafted horsehair wigs come in a variety of colours to suit the barrister or judge's requirements. Each wig has been masterfully crafted with horsehair by hand and is a perfect traditional item for every courtroom appearance. The courtroom wig has been around since the fifteenth century and is one of the most important aspects of a courtroom barrister's attire.
We also now have a vegan alternative on offer. The vegan barrister's wig is available in both synthetic and plant-based fibres and looks identical to the original horsehair version. If you or your new barrister take a strong stance toward the sustainability of attire, then this could be the perfect way to showcase that they care about moral code and ethics as a barrister should.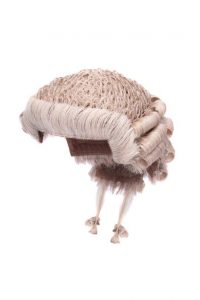 Legal formal wear
Our 100% woven wool trousers are a must-have in the professional courtroom environment. The traditional black and grey stripe, single pleated trousers will ensure that the jury and judge understand that you mean business, making you the court's focal point and enabling you to focus on your well put together arguments and fight for justice.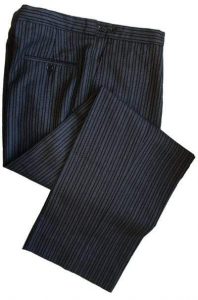 Barrister Bands
The famous barrister bands have been a part of the traditional garb for hundreds of years. These were initially crafted to represent the tablets of the law and are considered a symbol of advocacy and judiciary profession. 
Although a much simpler gift, these bands (or collarette for ladies) are as much a part of the traditional courtroom attire as the gown and wigs, they are a beautiful and minimalistic gift that all barristers require.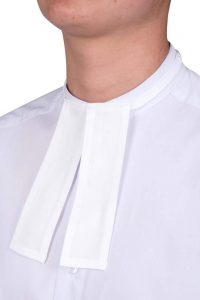 Inns of Court Preparation Package
The ultimate Called to the Bar gift. The Inns of Court Preparation package is a combination of garments and accessories that your newly graduated barrister will need. Combining the traditional wig, gown, wooden certificate frame and Monogrammed Barristers Bag, this package contains everything that will enable their professionalism to shine through.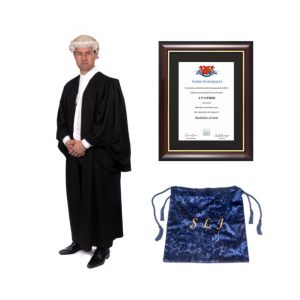 F.A.Q's
What are the best gifts to give a lawyer?
In our opinion, all of the above-suggested gifts can be an excellent addition for your newly graduated lawyer. We have made sure all of them are more than just a fancy gift, but also incredibly useful, turning a simple gift-giving experience into something that will last them forever.
Can I give my solicitor a gift? 
If the solicitor in question is a recent graduate or family member, then yes you can gift them. If you have hired a solicitor and they have stood for you professionally, then the solicitor is not allowed to accept gifts. Letters of compliment and great reviews are always helpful though and will be accepted graciously. 
What can I get a law student for their birthday?
Any of the above gifts can be a significant addition before them being Called to the Bar. Alternatives would be items such as briefcases, certificate frames and classic items such as a decanter. 
How do I help someone who is studying for the bar?
Studying law can be a stressful and arduous journey. The time students have to put in to achieve their goals is substantial, so never play down the issues and stresses that they may experience along the way. Being there for them as positive reinforcement can be vital, and positive distractions will be required to get them through the lofty exam process. Basically, we recommend you are there for them as much as they need. Not all support is financial.
Are you looking to find out more about legal attire maintenance and related topics? Check out the other posts on our helpful, informative blog. Also, if you're in the market for a new legal wig or legal gown, you're in the right place!