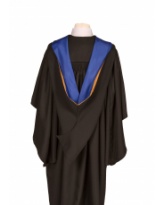 Graduation hoods are very unique to each institute and are designed to represent the individual's rank, discipline and achievements. A graduation hood is worn over the gown and held in place by a buttoned shirt or other suitable method.
Graduation Attire have a large and diverse selection of graduation hoods available in many distinctive colours. We can supply a variety of variations which are ready for immediate dispatch.
Our UK Bachelors hood also known as the simple-shaped hood is made from high quality polyester with a satin lining. Bespoke variations and patterns are available in bulk purchases.
Contact our friendly team 01234 880956 and order a hood designed especially for your institute. We can ensure it will be a perfect match with your Graduation Gown.