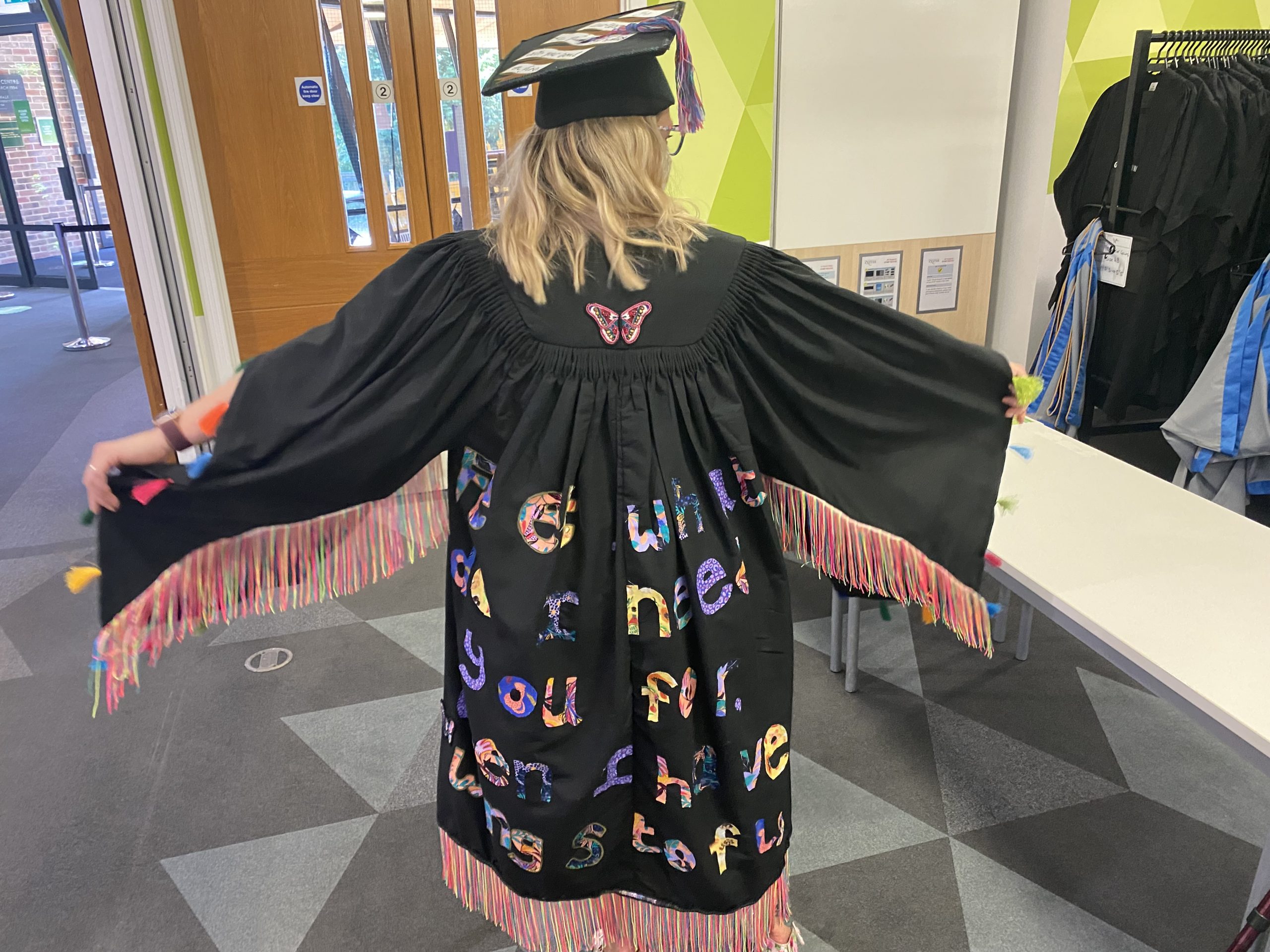 During our recent trip to the University of Exeter for their graduation, we met a very inspiring mature student today who had overcome a lot to get her degree. She had also made her own gown and hat, and hired the hood from us.
When we asked her to share her story she was more than happy to do so.
Sophy Creed's University of Exeter Graduation Story
"My gown/mortarboard tell a story and if it's shared and inspires another (slightly older!) and disabled people to take the leap and go to Uni then that's a real positive! (Can you tell I'm also an ambassador for the Uni, part of my job is widening participation, which I'm really passionate about!)"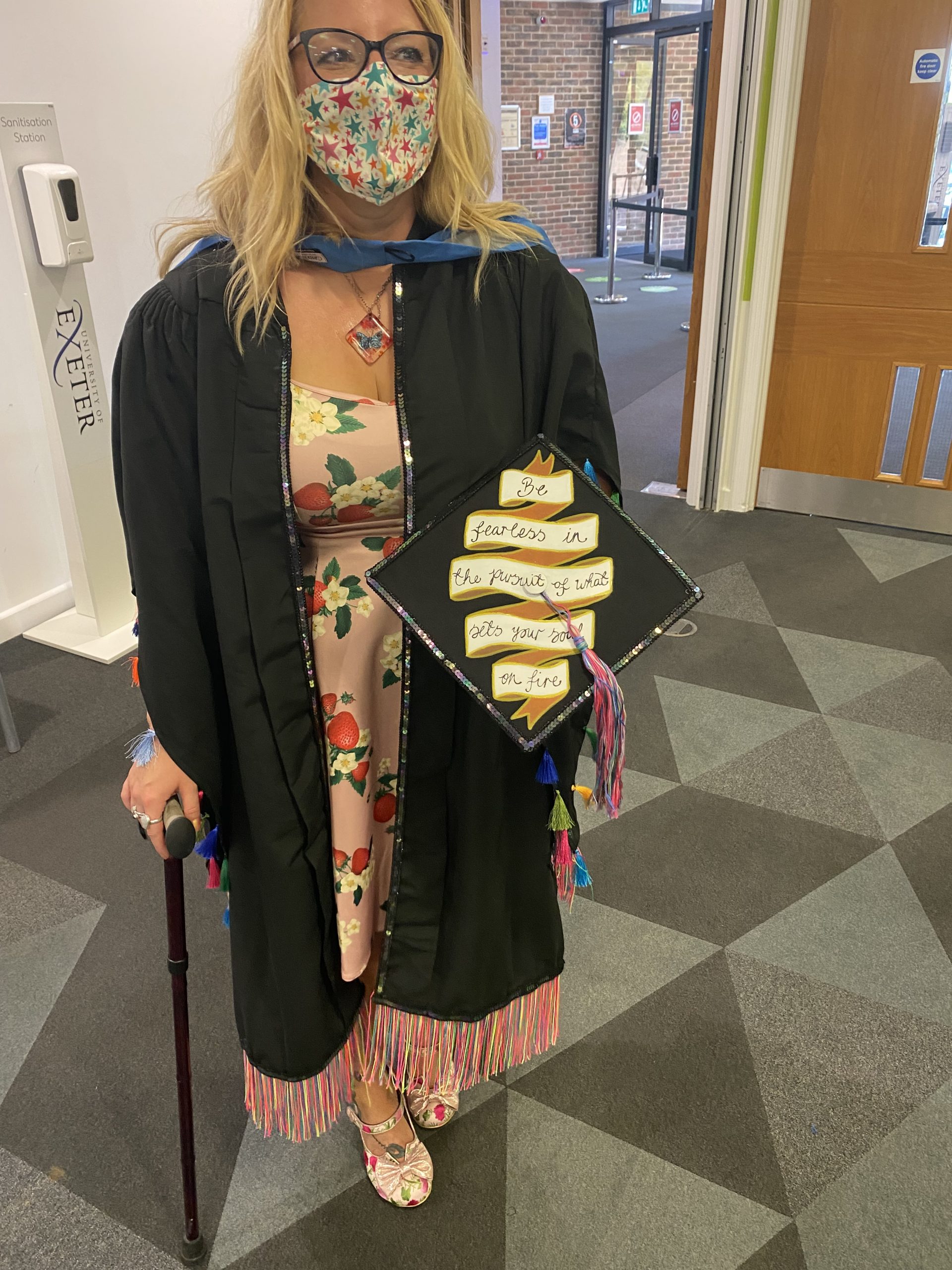 I am Sophy Creed, 35 years old, just graduated with my second degree from the University of Exeter, after 5 long years and some serious ill-health. BSc in Exercise and Sport Science, specialising in cerebrovascular research and will be starting a Masters by Research (at Exeter) in autumn in this area of research looking at stroke rehabilitation- something very close to my heart.
A bit about my 'story'- I have made a remarkable recovery from 2 brain injuries, one in 2014 that left me in a coma on life support and I woke up having to relearn how to walk and talk again. I was made medically retired at just 28, told I'd never walk or work again.  From here I decided to pursue an evening class to get my science GCSE and here we are today!
I had a relapse in my second year, hypoglycaemic coma, and became extremely unwell and had to take a year out then come back to part-time study. Thankfully I smashed year 3 in one year though!
The quote on the gown is from Frida Kahlo who is my heroine and disabled icon. 'Feet, what do I need you for when I have wings to fly'.
She wrote it when she was bed bound and seriously ill. For me, it symbolises that it was my disability that brought me here…..The words on the hat symbolise that fight to get here! (bet you wish you hadn't asked!)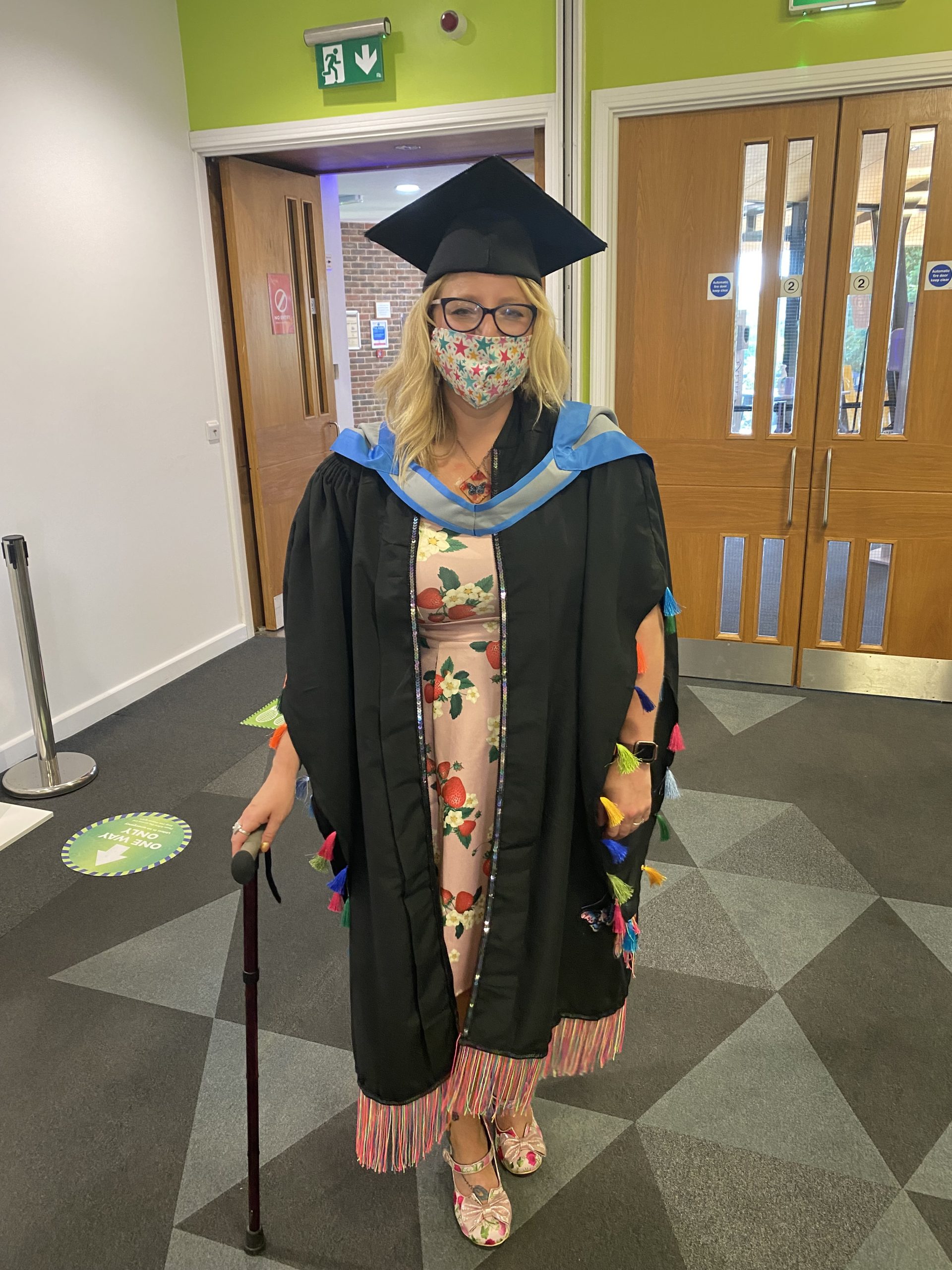 Thank you, Sophy for sharing your amazing story with us.
At Evess, we have everything you need to dress the part and ensure that all graduation boxes are ticked. Graduation Caps, graduation gowns, accessories, fun graduation gifts and even sets for home graduations — we strive to ensure that every graduation is as special and memorable as possible, regardless of the circumstances.Do you have an upcoming graduation ceremony? Check out our online store for all of your graduation needs. Graduation is a special occasion, and it's our job to make sure it's an event that lives long in your memory. If you have any questions or need more information about our products, don't hesitate to get in touch!