Giving Students a Virtual Graduation Ceremony Experience
In our previous blog, we mentioned that one trend we're seeing for 2020 graduations is the virtual graduation ceremony. And we've been working on a project to help universities celebrate their students' success despite the lack of physical graduations.
Introducing: Graduations.Live the virtual graduation experience that recreates the magic of the live Graduation ceremony for students with their families and friends at home.
Graduations.Live is a platform for universities to host their virtual graduation ceremonies this summer until they can have their physical ones at a later date. We believe that Graduations.Live reaches, engages and congratulates students in a way that marks their achievement in style.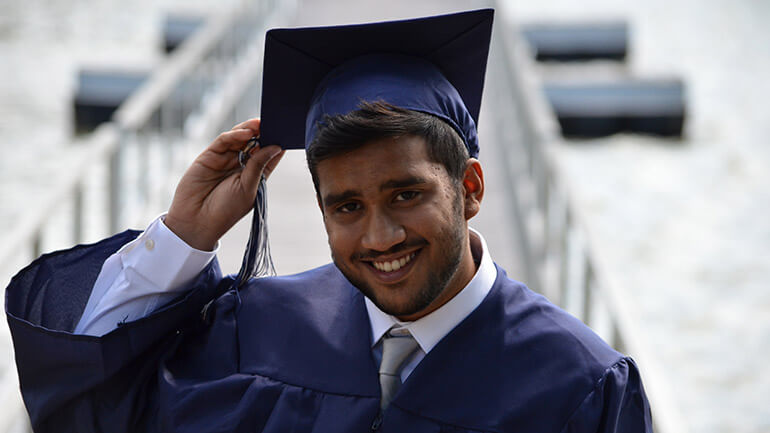 From the New School
One thing that was clear during our research was that a virtual graduation ceremony was never going to replace a physical one, no matter the intriguing headlines we have seen online.
We embraced that fact and thought of a different way for students to celebrate both the connections with fellow students and lecturers and their achievements with friends and families.
In short, it's about engaging with the students and creating a sharable experience online that marks the milestone for both the faculty and the graduates. With Graduations.Live, this is achieved through exclusive digital content and a store where students can purchase graduation attire and university memorabilia. 
Graduations.Live has also been designed to be a place for students to return to and communicate with old classmates, with the platform becoming an Alumni network where students can connect their LinkedIn profiles and re-engage with old classmates.
Those were the principles we developed the platform on.

Hitting the E-books
It was important to us that universities could easily adopt the platform and manage it alongside their many other responsibilities.
We have developed Graduations.Live to be intuitive to use, with a simple and easy setup to choose colours and logos to match your corporate branding. There is also a simple upload functionality allowing you to add videos, countdowns to ceremonies and activities such as quiz questions.
These activities act as a build-up of anticipation to the virtual graduation ceremony as they share memories and more.
How the virtual graduation ceremony takes place is up to each individual university. Some may opt for recordings of speeches made ahead of the time, while others will choose to live stream the occasion. At Graduations.Live, we will do what we can to accommodate each requirement. 
Whichever method Universities choose, a primary benefit of virtual ceremonies is that students have an uncapped number of family and friends able to join them in their celebrations.
Show & Tell
Naturally, the visuals included in a Graduations.Live platform has to be a strong reflection of a university's reputation. So, we have made every effort to ensure the visuals capabilities allow you to showcase the best image of your institution.
As well as having engaging visuals, we wanted to amplify the experience for students through unique content that can be shared online to showcase both their achievements and build greater awareness of the University.
These activities are:
Grad Clip

– A branded sharable video that uses student information and collated images to create a video of their journey at the University.

Class Photo

– Students submit photos of themselves that are then stitched together with the rest of their graduating class.

Digital Hat Throw

– Self-recorded videos of students throwing their mortarboards in the air can be combined side-by-side then shared online.

Graduation Store

– The store will be open for students to purchase graduation and University memorabilia to be delivered to their chosen address.

Alumni Centre

– After completing a form from the University, students can see a 'live' class yearbook that updates as students change jobs on LinkedIn.
We're also working on some other additions that are expected to launch later in 2020:
Quiz

 – In the build-up to the virtual graduation ceremony, students can test their knowledge with quizzes created by the University and compete via a virtual leaderboard.

Photo Mosaic

– As students submit photos of themselves in real or digital graduation attire, their photo is added to a grid that slowly reveals a larger hero image e.g. a University landmark.

Mortarboard Challenge

– Whether students customise their physical mortarboards or edit one captured via augmented reality, they can upload their images for all students and choose their favourite designs.

Virtual Reunions

– Part of the Alumni Centre includes the ability to host virtual reunions for students that can involve industry talks, live quizzes and more.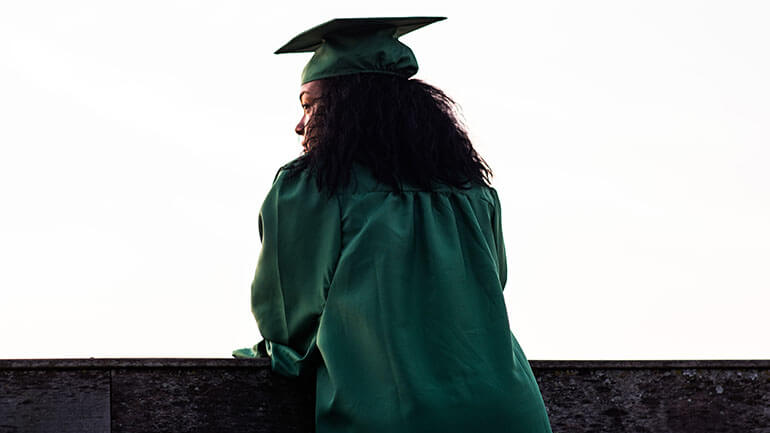 The Important Bit – Pricing
Naturally, this a new area for Universities. So, we've ensured what we deliver is respectful of both budgets and the quality of the platform.
There are two elements to the pricing of Graduations.Live: Initial Setup Fee and Sign Up Fee.
The Initial Setup is per graduation event and includes all the ceremonies that take place during those number of days. It also includes the first year of an annual subscription which allows for the existence of future ceremonies and the integrated Alumni Centre & e-Yearbook which pulls data from LinkedIn.
The Sign Up Fee is calculated per student registered on the platform. To give an example, a University that had 3,000 registered students would be quoted:
Initial Set Up Fee: £3,000
Sign Up Fee (x3000): £6,000
Total £9,000(+VAT)
If you would like to learn more about the Graduations.Live platform, you can watch our recent webinar or contact us today