After working for years to be able to graduate from college, the big celebration at the end of it should be the easy part.
But one question stumps would-be graduates year-after-year; should I buy or rent my graduation gown?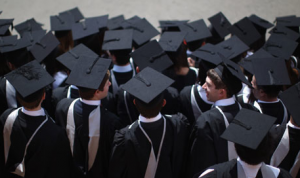 Whilst graduation outfits are traditionally hired,  the ever-increasing price of hire fees are pushing an increasing number of leavers to look at buying their own attire for the ceremony.
Whilst hiring a gown has some advantages, buying your own puts all the variables in your control; you'll never have to worry about availability at a hire store, or your order being lost, if you have your gown delivered and ready to be worn weeks in advance!
Gone are the worries of returning your gown for your deadline, or smudging it with chocolate from the celebratory chocolate fountain. Your graduation gowns will be a wonderful memento of a day you've worked for years to achieve.
As graduation gown specialists, we offer top quality graduation products at prices that are so reasonable that it is often a better option than hiring. We believe we not only offer the best value, but the fairest value for your money.
Despite the very specific name, a graduation gown that you own has a life after the ceremony; If you're finishing a PGCE or other teaching qualification, you may well find yourself using them regularly for work. Avid vocalists will find them requisite when singing in a church choir, or you could look to pass your gown on to younger siblings  – or even the next generation!
Of course, the bottom line for choosing whether to buy or rent your graduation gown should be cost. After all, the idea of renting should always be cheaper than buying. We're confident that no matter how competitive your rental company claims to be, we'll be able to offer you your own, personal graduation gowns for a better price.