Graduation is a wonderful day for all involved and a celebration of the achievements of graduates, but it's not always going to be a bright and sunny affair. Graduations sometimes occur in winter, or at least with Wintery weather, so it's always best to be prepared. After all, no one wants a wayward floaty dress or the inability to hold a conversation due to chattering teeth.
In this post, we'll provide a quick yet comprehensive guide for knowing what to wear for a winter graduation ceremony.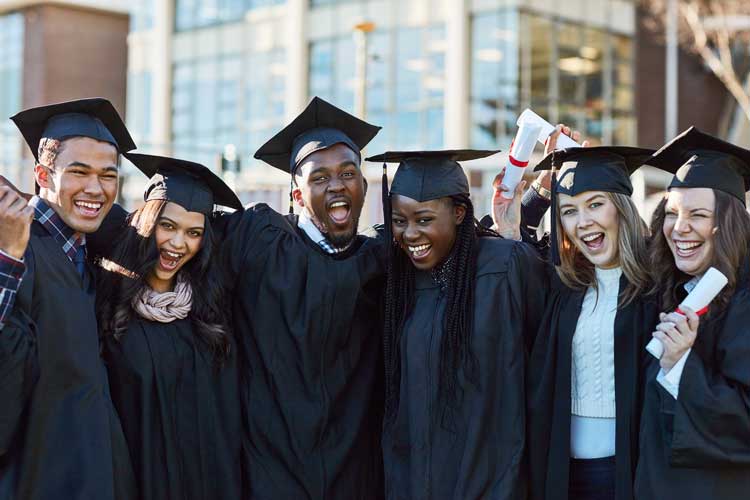 Your Attire for a Winter Graduation Ceremony
Graduation days don't tend to have specific dress codes, but universities expect you to dress smart or at least put some effort into your attire. The two key factors for your winter graduation attire are comfort and smartness. With that said, if your graduation is in Britain, another aspect to consider is the awful weather! 
British winters tend to be cold and wet, with the possibility of heavy rain. This may mean your graduation is indoors, but there's still a pesky walk to and from the car to consider. So it's important to dress appropriately to fight the good fight against the elements.
Men's Graduation Attire
When it comes to men, what to wear for a winter graduation ceremony doesn't differ massively from other times of the year. Most men opt for a suit or smart clothes such as a shirt and suit trousers or chinos. So, from here, it's not too much effort to make the appropriate adjustments to suit winter weather.
Let's start with the suit. If you normally wouldn't wear one, you may want to rethink or wear a smart, weather-appropriate jacket. If you are going to wear a suit, there are three main things to consider: choosing between a two or three-piece suit, colour, and fabric. Firstly, we'd suggest a three-piece suit as it offers additional warmth on colder days but also provides the warmth of a waistcoat if you want to take off your jacket.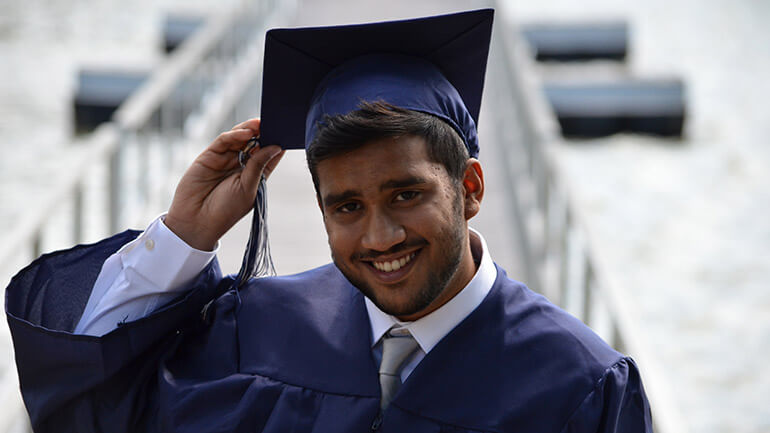 Your choice of colour and fabric normally will depend on personal choice, but in winter, you'll need to make a decision based on the weather you're expecting. For example, if chillier weather is on the cards, you'll want to opt for something thicker such as wool. And colourwise, wearing a darker suit is never a bad idea to disguise any specks or damp spots from the rain.
And finally, footwear. Winter can be quite the treacherous season for slips and trips, especially for those of you who aren't too picky with what you put on your feet. It's essential for your footwear to be comfortable and have a grippy sole. This allows you to navigate any potentially hazardous ground without concern and ensures you won't slip.
Women's Graduation Attire
Graduation Dress
When it comes to women's attire for graduations, especially in winter, there are several options available, each with their pros and cons. The go-to option for graduation due to its simplicity and sophisticated aesthetic. In winter, you may want to opt for a warmer material and most definitely avoid floaty dresses to avoid any embarrassing mishaps. If it's forecasted to be particularly cold or wet, you can wear tights for added warmth.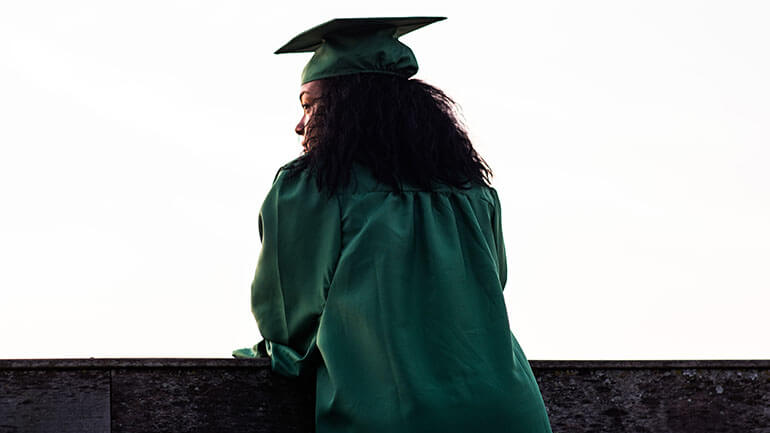 Skirt and Smart Top
If you don't want to wear a dress or simply aren't a dress person, another idea is a shirt and skirt. Ideally, a knee-length or midi skirt. It's always good to try and choose colours that complement the colours on your gown. Fortunately, with shirts and skirts, you have many colours and combinations to work with. Some may opt for a plain skirt and bright shirt, vice versa, or a matching set — regardless of your choice, have fun with it and use it as an opportunity to show some personality.
As with dresses, tights are an excellent addition for winter graduations as they keep your legs warm and can even further compliment your colour choices.
Trouser Suit
If a skirt or dress isn't your cup of tea or the weather is ensuring those choices would be a nightmare — why not go for a trouser suit instead? Women tend to prefer the style of a two-piece rather than a three-piece, but who are we to presume? At the end of the day, it's your graduation and entirely up to you what you wear. After all, those pictures will be displayed for years to come, so it's important to be comfortable.
For women's suits, blazers often look best, with many different trouser cuts and designs to choose from. Personal preference is essential here as it helps you show some personality in your graduation get-up. Beyond this, follow the same advice as the men's suits. Colours and fabrics that suit the weather you're expecting are best.
When it comes to footwear, again, it's completely up to you and depends on your outfit and the weather. Many women feel as if they have to wear heels, but this is simply not the case. Universities expect you to be smart but do not dictate the specifics of your attire. For women, your options are generally heels, flats, or smart boots. If you really want to wear heels but the weather is less than ideal, you could always wear comfortable/waterproof shoes from the car to the venue and then switch to heels.
Again it really does depend on what you're wearing. For dresses, heels and smart flats are perfect. The same goes for a shirt and skirt combo. However, for trousers, you pretty much have the green light when it comes to styles as they'll cover the majority of the shoe.
Now that you know what to wear for a winter graduation ceremony, it's time to get your Graduation Gown, Stole and Graduation Cap.