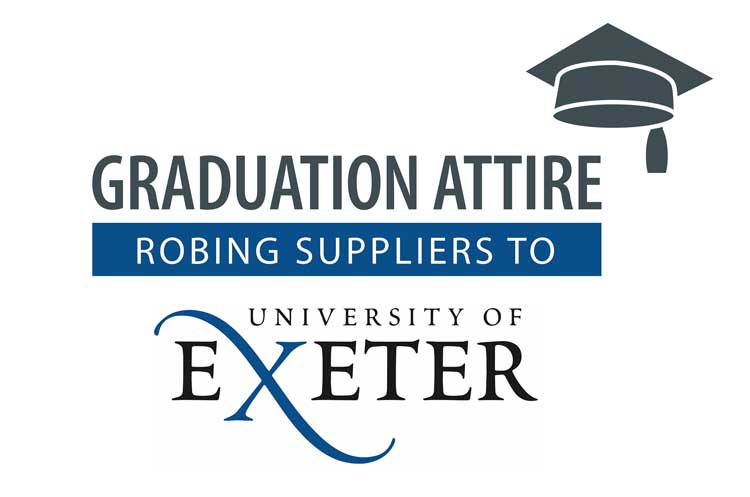 University of Exeter students can now hire their gowns from Graduation Attire to prepare for one of the most memorable days of their lives.
We are proud to announce an exciting new partnership between Graduation Attire and The University of Exeter. This new partnership means that The University of Exeter Graduation wear is now available to hire from the official University of Exeter graduation gown hire portal.
Our quest to become the official suppliers of The University of Exeter
The proposal was student focused and carefully structured, in order to present Graduation Attire's core values and beliefs and share our skills, knowledge of UK Academic Dress and all important focal areas ensuring the perfect day for all soon-to-be graduates.
Our student focused approach
A lot of thought and preparation went into our proposal but we believe that the main reason we were successful is down to the core belief at the heart of Graduation Attire, which is to focus on the students needs and keep these at the forefront of your mind whenever you make a decision impacting their graduation day.
For Students, reflecting on their academic journey and their achievements throughout their university career, the graduation ceremony should be the encompassing event to complete this perfect journey.
Our sustainable gowns are a perfect example to show how our focus is our students and what can impact their future. Our sustainable gowns are made with environmentally friendly thread coming from plastic taken from recycled consumer waste. This manufacturing technique will help towards the start of an environmentally friendly graduation!
The University of Exeter Graduation Robes
As graduation gown specialists, we've used our expertise and knowledge of regular problems faced by students, to create a useful FAQ page, which includes information about gown measurements, bookings, payments and your Graduation Day itself. If there are still more questions that you may need answered, then please head over to the university's own graduation page at https://www.exeter.ac.uk/graduation/
The University of Exeter gowns can be hired from our University of Exeter Graduation Portal. Before entering the booking system, it will be worth all students measuring their height and head circumference in cm and ensuring they have their payment card at the ready.
The Start of a New Journey
Graduation Day is one of the most important days in any student's life and this is something that we understand well. We understand the importance of putting students' minds at ease by providing them with all the relevant information and the importance of ensuring that their graduation gown looks good and feels comfortable on the day.
We are extremely proud of our new partnership with The University of Exeter, considering it a great honour that we are able to work alongside such a prestigious institution. We hope that this brilliant partnership will last for many years to come.