Graduation Day is a day of celebration for every university student, even in winter, but how do you know what to wear to a graduation in winter? You've finished this part of your university career. Whether you're starting another qualification or going out into the World, Graduation Day is a time to celebrate your achievements and successes with your family and friends. 
This should be a day that you can look back on with pride and joy. You've got there. You can bask in the glow of your success…
There is one last thing to think about, though. What you're going to wear. We've all seen the pictures. Graduating students with their gowns and hoods, mortarboards proudly atop their heads. But what is worn underneath those gowns isn't up to the university – it's up to you.
Most universities don't have a dress code for Graduation Day, but they usually have a preference for smart, tidy, and practical outfits from both graduates and their guests. Planning ahead and making some simple stylistic decisions will save last-minute panic and make sure you stay focused on your achievements, rather than worrying about your appearance.
Depressingly, not every graduation is going to take place in the lovely summer sun. There are graduations that will occur in winter and this means two things. One, the floaty dresses are to be put away, and two, you have to think about clothes that are warm.
So, to give you a helping hand, we've broken down any and all outfit ideas into sections to help you work out what to wear on your big day.
What to wear to graduation in winter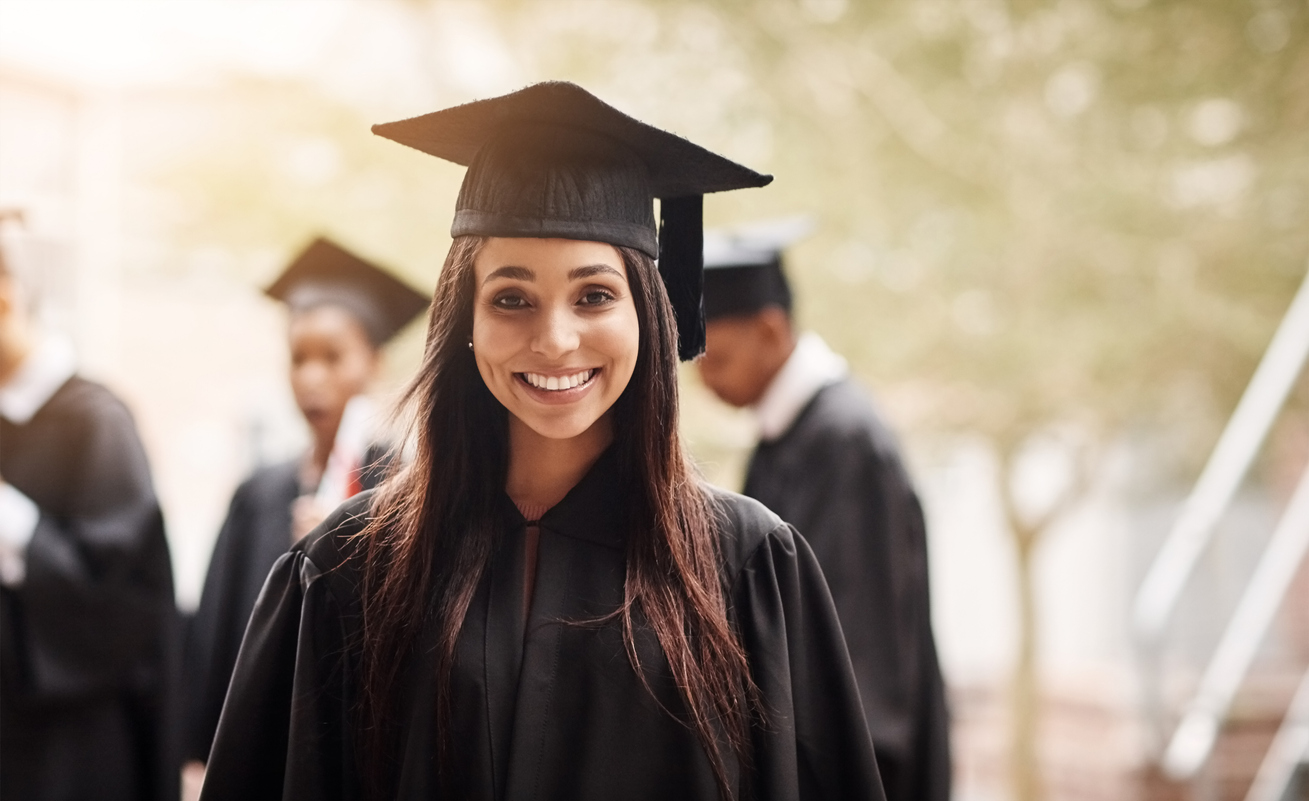 As mentioned before, Graduation Days generally don't have a specific dress code. However, it's a big day and special event, and universities generally expect you to put your all into your outfit.
Smartness and comfort are necessities whatever the weather, but in a British winter, you have something else to take into account – weather suitability. If you're taking part in a British winter, it's likely to be raining very hard so your graduation will be inside. But there's still the walk from the car to the front door and you don't want to spend hours on your outfit and make-up and then rock up at your graduation location and find you're going to look like a wet dog after the five-minute walk from your car to the front door of the building.
Men's graduation outfits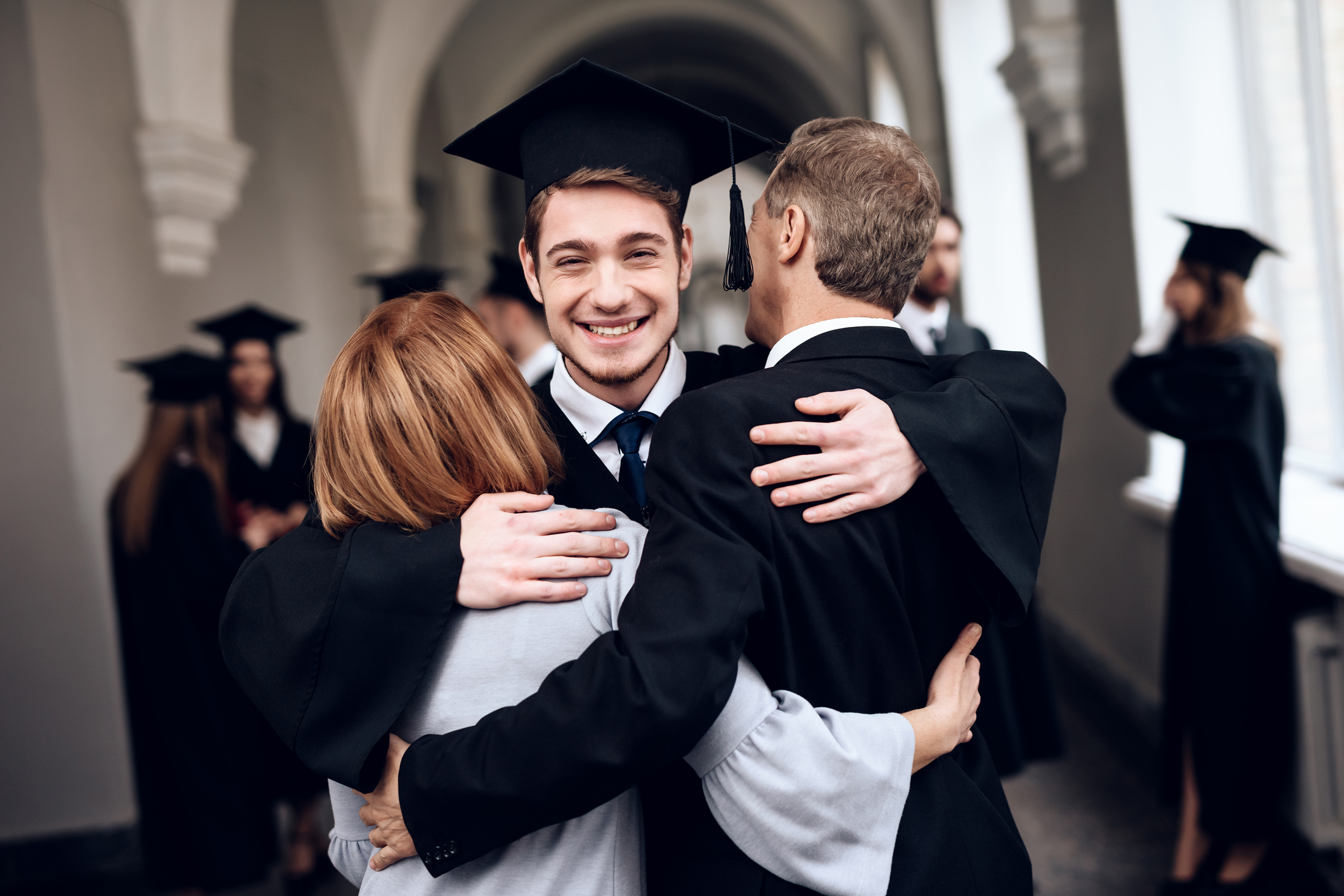 For men,  the changes are minimal. A formal event for men means a suit, shirt, and tie. It's simple enough, but when winter comes to call, there may be a few things to think of.
Two- or three-piece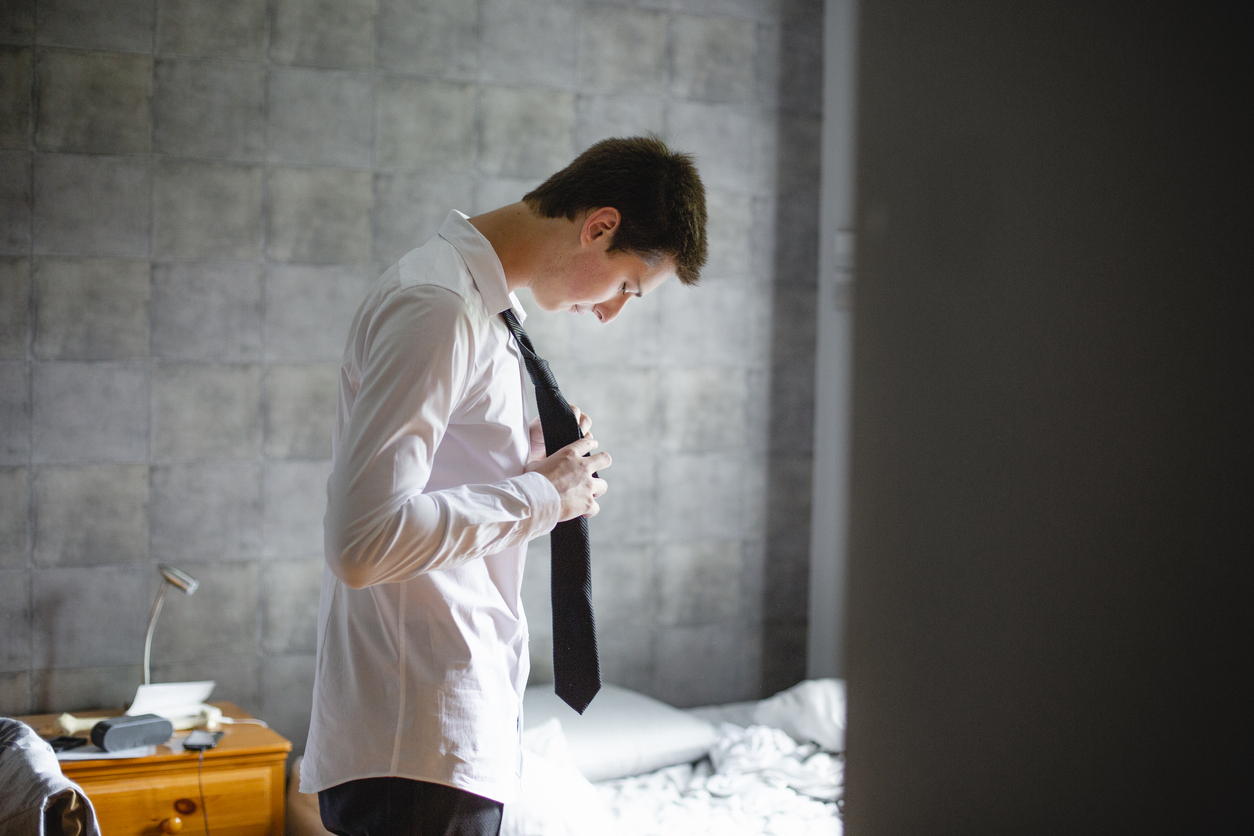 A simple explanation of the difference between the two: A two-piece suit consists of a jacket, a shirt, and trousers. A three-piece suit adds a waistcoat as well.
In winter, a three-piece is probably best. The waistcoat or jacket can be taken off before your gown is put on, but adds an extra layer of warmth when you're outside. A waistcoat will also help you continue to look smart if you decide to take your jacket off.
Fabric choice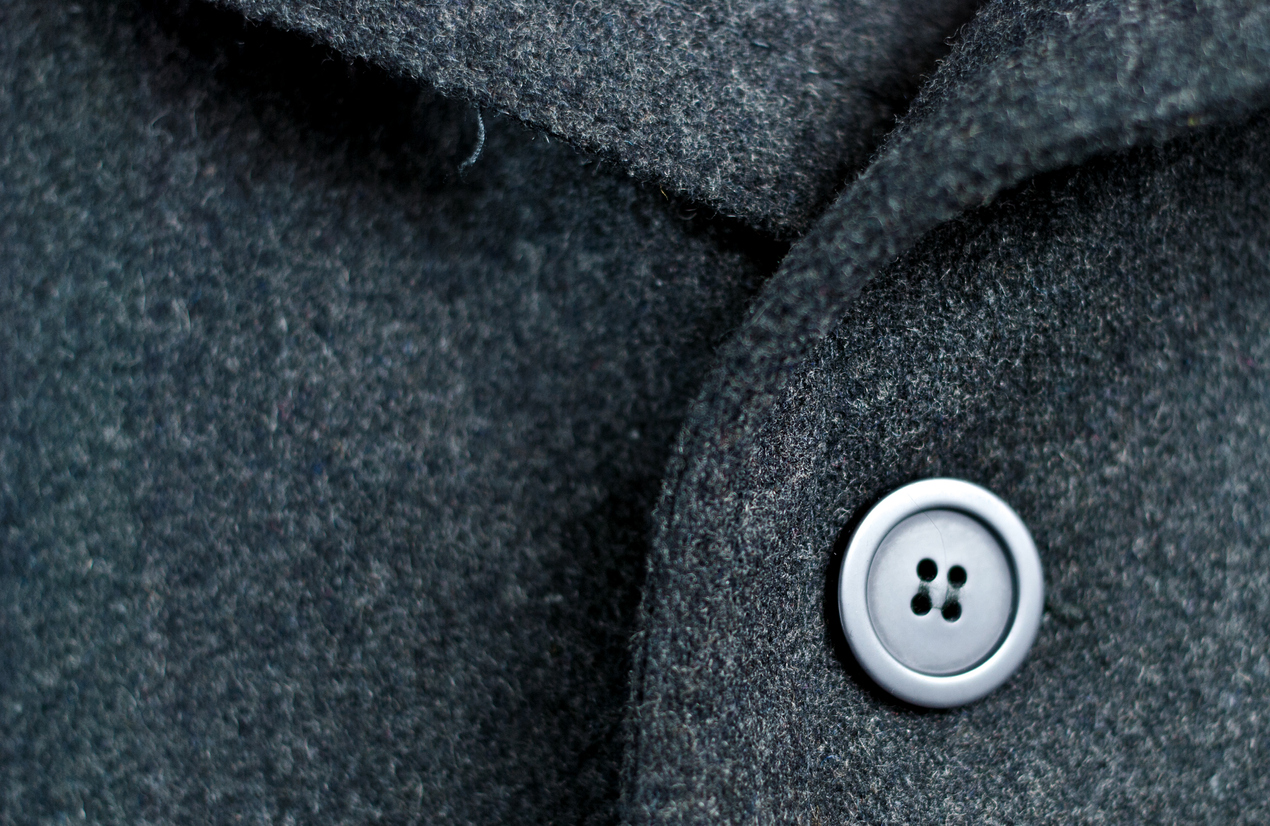 Like the choice between a two- or three-piece suit, your suit's fabric is up to you. Choosing a thick wool suit is understandable for winter graduation, but pointless if you're going to be inside the entire time, heating blasting.
Other good suit materials that will keep you warm are tweed and corduroy.
Colour and Design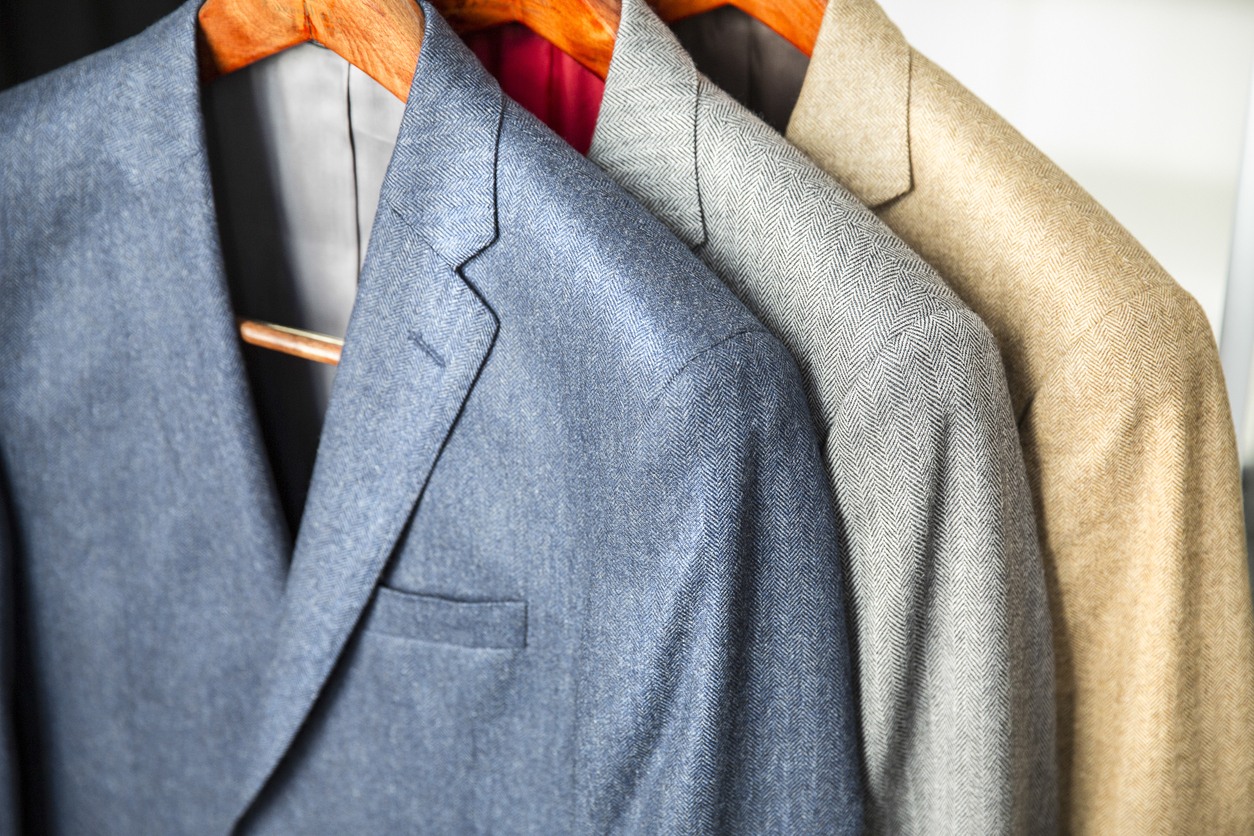 Dark coloured suits in black, grey, or blue are the most popular choice. They'll also match well with your gown, and a waistcoat can be paired easily. Your shirt and tie can also be matched well.
Look at your university's colours, though, and try to find something that matches. If their colours are orange and red, a lilac shirt or tie is going to clash. Try to find something that won't just look good on you, but look good with your gown.
Women's graduation outfits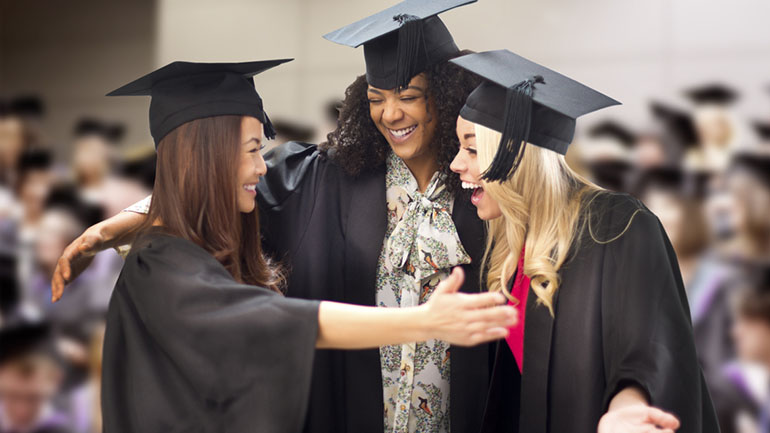 Women have a variety of outfits to choose from on their Graduation Day. A dress, a skirt and blouse, or a trouser suit. All have pros and cons, and, in the end, it is once again down to personal preference. 
With the winter weather, it's best to choose something long-sleeved. It's not the weather to choose something with spaghetti straps, as much as you may want it.
Dresses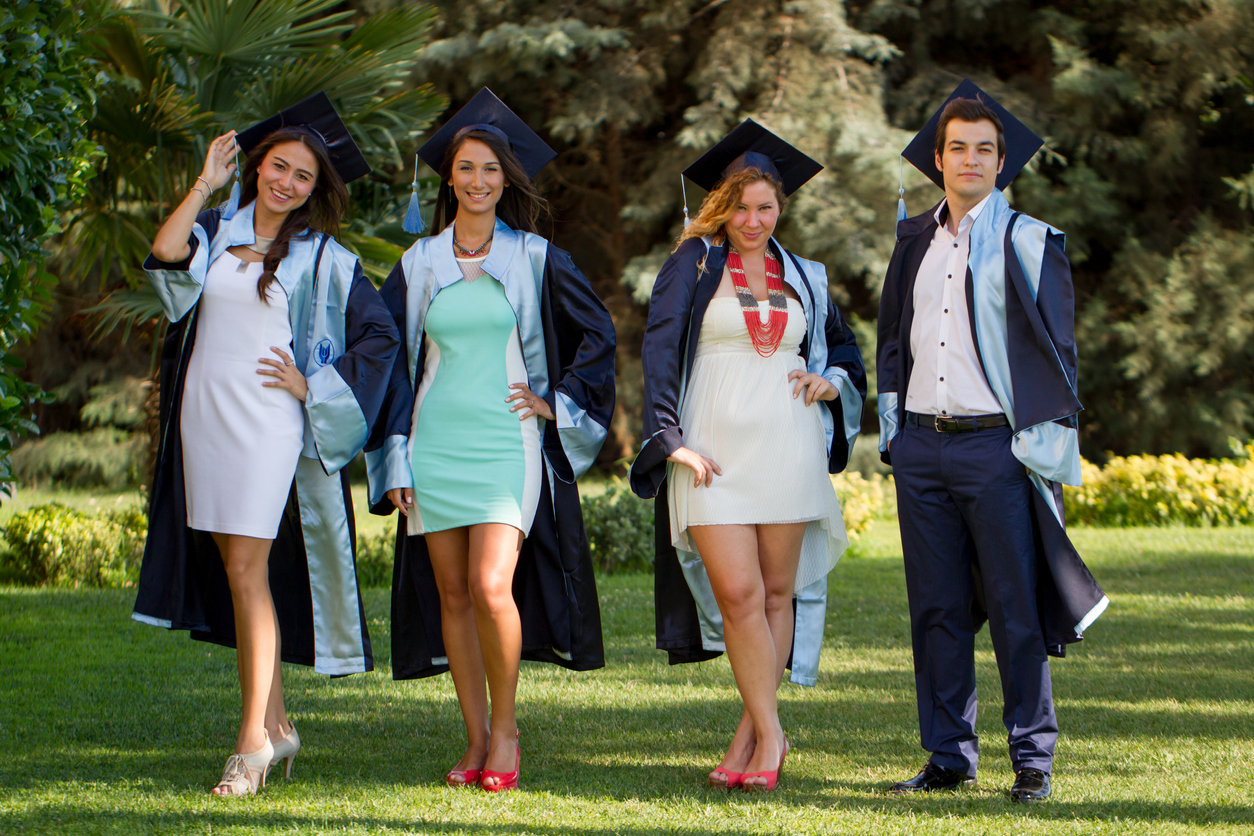 A smart dress is an easy outfit for graduation. Knee-length or midi-dresses are a popular option as they look nice and can just be seen below your gown as well.
However, in winter, you need to ensure you have warm tights, rather than bare legs as you might in summer. These don't need to be woollen – now you can get sheer tights that are woven with fabric to help keep your legs warm.
There's no point choosing something with a bright pattern. Whilst you've got your gown on, no one will be able to see it.
Once again, the winter weather is something to take into account. A cardigan or some sort of wrap is a necessity. It might feel like too much, but it's better to have too many layers than too few.
You should also avoid sheer fabrics or anything short and floaty. It might look nice, but, inside or out, it doesn't create much of a warm layer.
Skirts and smart tops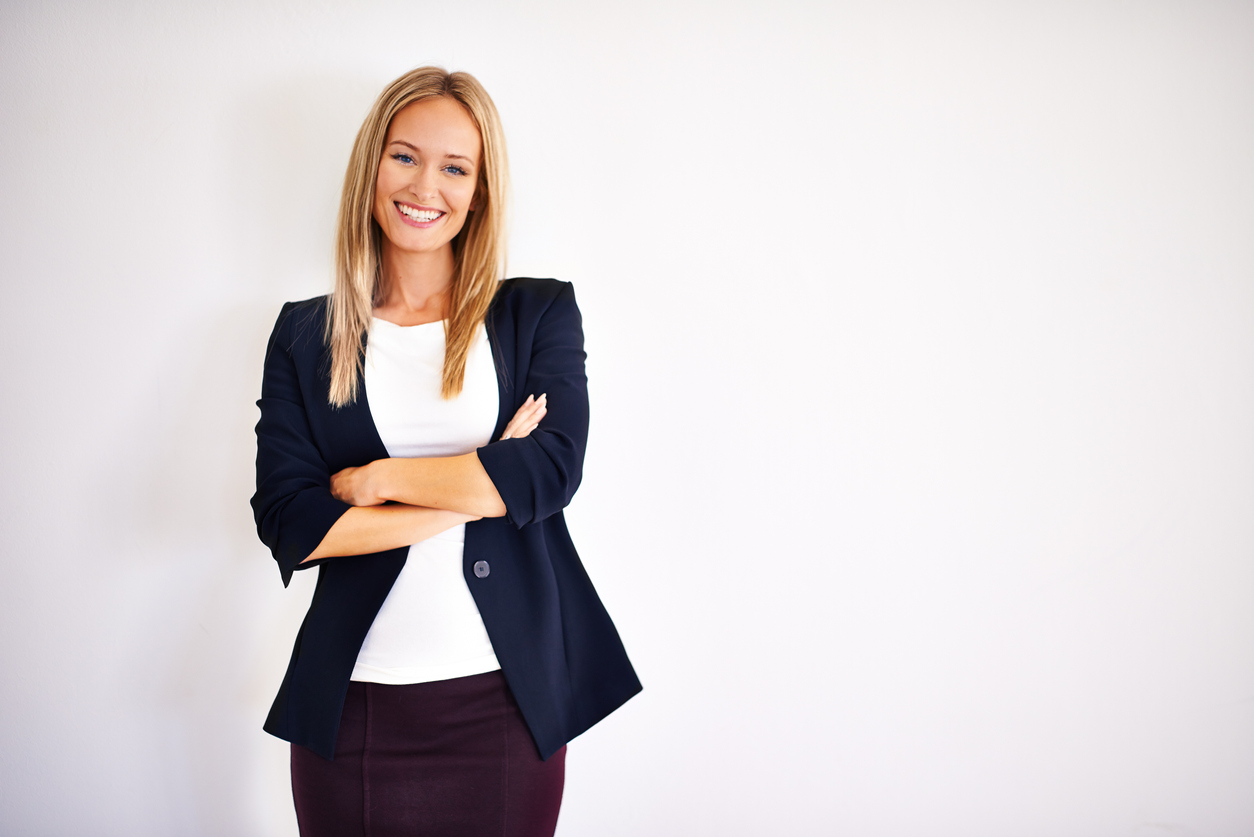 If you don't want to wear a dress, another idea might be a shirt and skirt. Again a knee-length or midi skirt is the preferred option.
Try to choose colours that will complement the colours on your graduation gown, but with a skirt and shirt, there's an array of choices. Whether it be a bold shirt and a plain skirt, or a matching set, you've got room to show your personality.
As with wearing a dress, you should make sure the skirt is appropriate to wear with tights. Once again, these don't have to be skin-coloured. They can be in a complimenting colour to your outfit or any other.
Trouser suits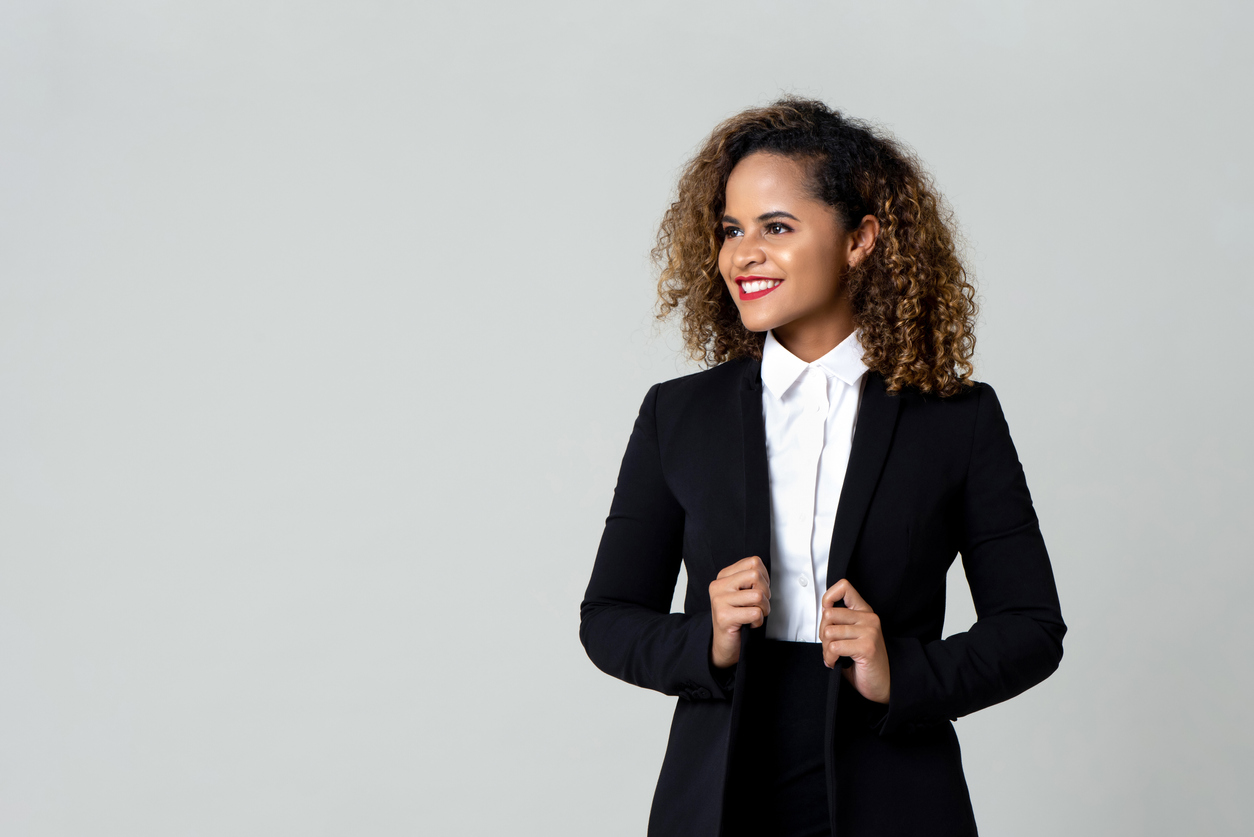 If your preference is trousers, then you can go for the option of a trouser suit to match your graduation gown. A two-piece looks better on women than a three-piece suit, but once again, at the end of the day, it is up to you.
Rather than a suit jacket, it is advisable for women to go with a blazer. There are also a variety of trouser designs women can choose from. Otherwise, the notes are the same as those for men's suits.
What shoes to wear to graduation
Footwear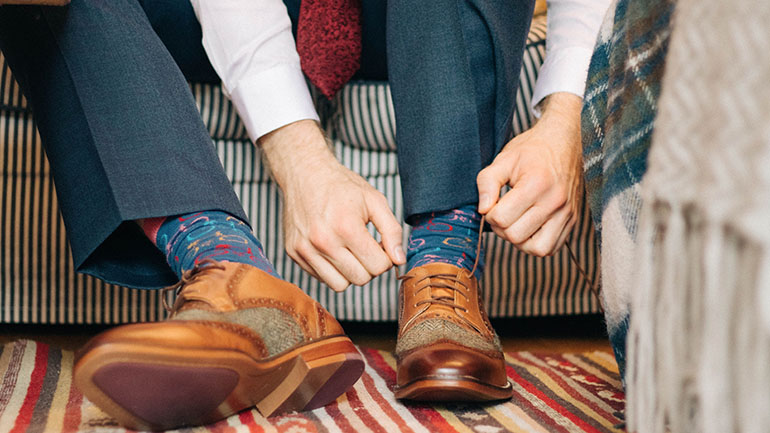 Footwear is another important choice. There will be a lot of sitting around and a lot of standing on your Graduation Day, so comfort is a must. They shouldn't be a pair that is going to force you into agony after an hour or are going to make you totter.
You also don't want a pair that is going to be ruined the moment you get outside. Suede, for example, needs immediate care and attention if it gets wet. Winter graduations are most likely to be held indoors, but there's still the walk from the car to the front door. 
Find out where exactly your graduation is to take place. If you're not going to be outside then you can take wearing non-waterproof shoes into consideration. Otherwise, make sure they are suitable for both the surfaces you'll be on and any poor weather that might come your way.
If you're going to buy brand-new shoes for your graduation, make sure to wear them beforehand to break them in. You don't need to wear them outside – a few hours around the house each day will be fine. This ensures the material has moulded around your feet and will be comfortable when you're wearing them.
Men's graduation shoes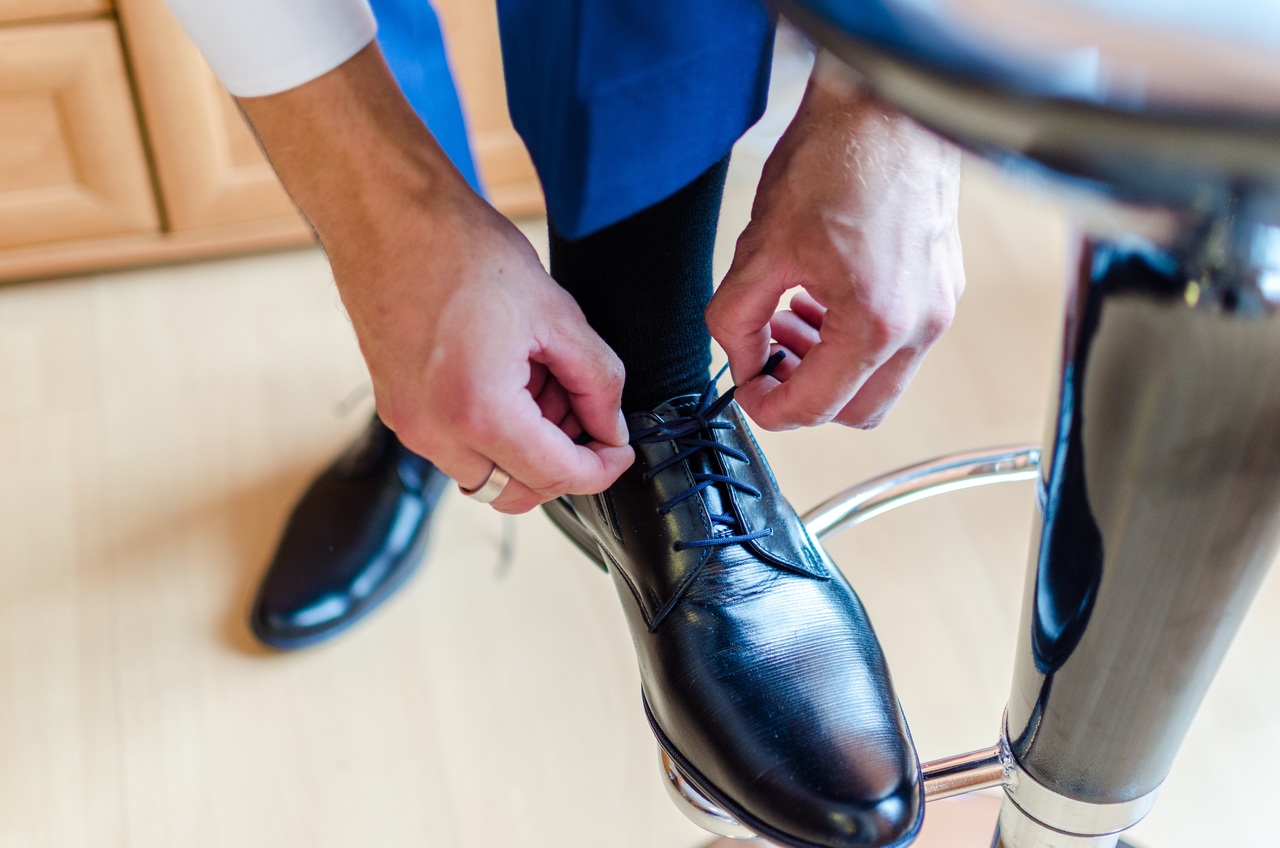 As with everything, your shoes should match your suit. Casual shoes, such as trainers and sandals won't be appropriate, especially if you're walking over damp grass. Smart leather shoes are your best bet, and you should make sure they have been polished before your Graduation Day. 
If you are still worried about the rain, you can buy water-repellent that can be sprayed on to protect the leather.
Women's graduation shoes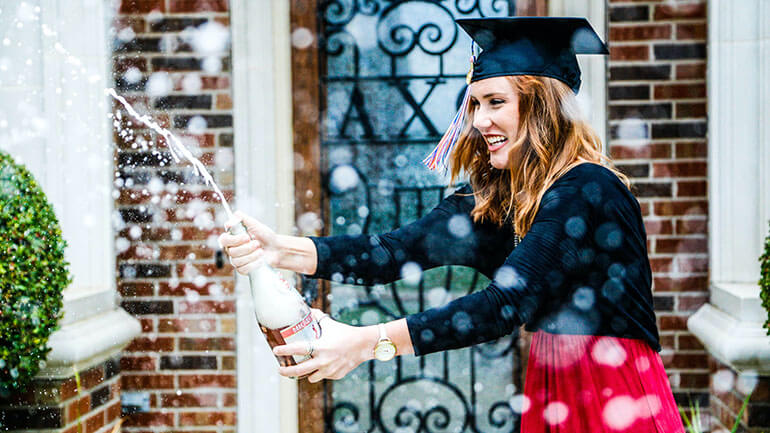 Women have a lot of variety when choosing shoes, whether it be a pair of boots or ballet flats. There are a lot of things to consider.
First things first, don't wear high heels just because you feel like you should. If you don't feel confident walking in high heels, you shouldn't wear them. This is your day. It should be memorable, but not because you fell up the stairs as you went to collect your degree because you aren't used to walking in heels.
For those who do wear heels, pick ones that match your outfit and you feel comfortable walking in. A fancy occasion doesn't mean you have to wear the highest pair of heels you can find.
If you really want to wear high heels that show off your feet, a good idea is to change into them when you get there. Wear a waterproof shoe until you get inside, then switch them over in your university's foyer. The receptionist will most likely be happy to tuck them under their desk until the end of the day.
If you're wearing trousers, any sort of boot will look good. How far up your leg they go will depend on what style of trouser you have on. It's up to you whether they have heels or not.
Completing your graduation look
Styling your hair can be difficult at the best of times. But when you expect it to be windy and raining, it can be much harder. Not only does it need to stay together, but you also need to be able to balance a mortarboard – the cap worn by every graduate – on top of your head. They're hard enough as it is, but any sort of elaborate updo will be destroyed when you try to pin your cap in place.
Men's hairstyles for graduation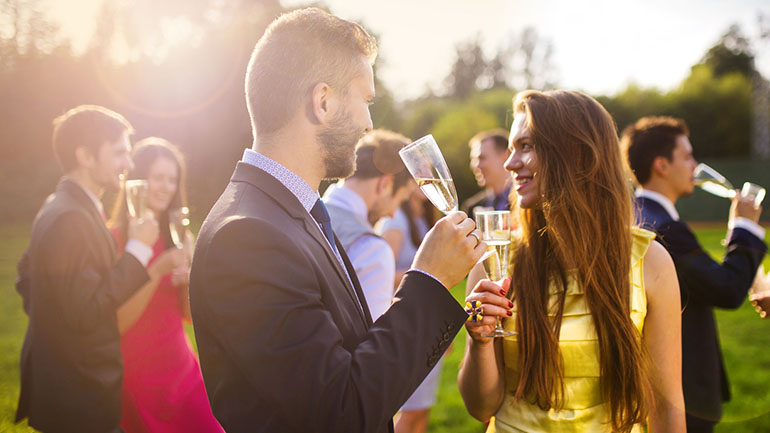 If you have long hair, tying it back into a low bun is a good way to keep it looking smart on your graduation day. A ponytail can look good as well, but wind or rain could quite easily ruin its neatness. A plait down your back could also work.
If you have short hair, this is the time to bring out the hair wax. The same rules apply – this is not the time for a complex hairstyle – and you should ensure that it will look neat and smart all-day
Women's hairstyles for graduation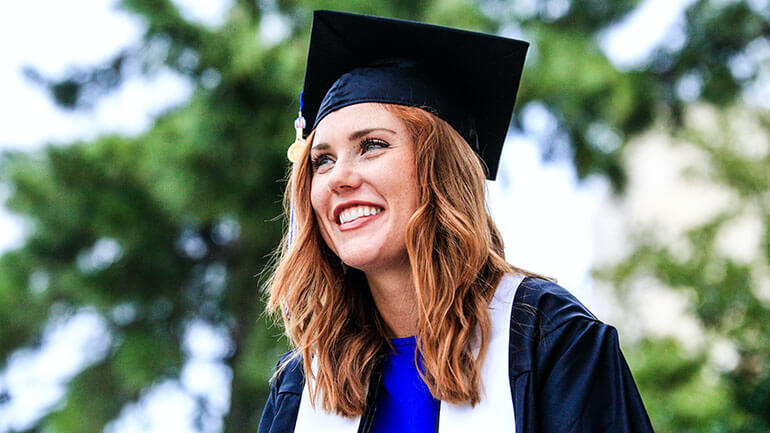 Up-dos such as high ponytails or detailed hairstyles can make putting a mortarboard on top near impossible. Instead, try a low bun or ponytail.
If you want to have your hair forward and on-show, try two pigtail braids. Your hair will be out there, but won't get in the way when you're shaking hands-on stage. If you want to add some more colour to them, you could even tie in some ribbons that match the university colours on your gown.
If you leave long hair untied, you are at risk of it getting ruined if you get caught in wind or rain. In winter, hair is also easily damaged so using tools like straighteners on it is a bad idea as it can lead to permanent hair damage.
If you decide to have your hair down, remember to hairspray it properly. However you style it, it could drop out after several hours if you don't take good care of it.
Whichever style you choose, make sure you bring plenty of hair ties and hairpins and grips for any last-minute touch-ups or changes.
Make-up and jewellery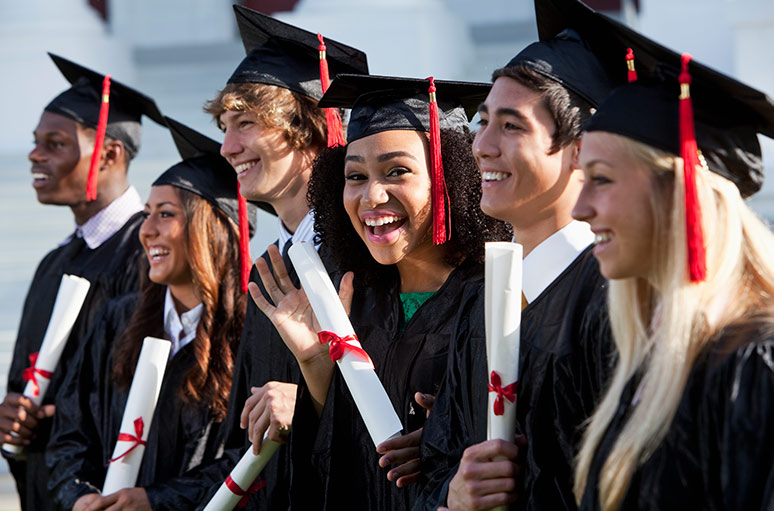 If you want to wear some make-up and jewellery along with your graduation outfit, go for it! As with hairstyling, though, there's a limit on what you can do. Statement necklaces will go unseen and just get in the way of your gown and, as amazing as your make-up skills may be, covering your face with a rainbow isn't appropriate.
Stick to simple jewellery and unexotic make-up.
Now that you know what to wear to a graduation in winter it's time to get your Graduation Gown, Stole and Graduation Cap. 
If your Graduation is being held in the summer and you are unsure of what to wear we have another article that can help; What to wear under your graduation gown read now for a more weather-appropriate way to dress for your Graduation.
Graduation Day is your special day, and, as you stand up there on the stage, you should be proud of your accomplishments. All your work has paid off. You're a graduate! From everyone here at Evess, well done and congratulations.